Museum L-A's Opening Reception for Lost Art of Handiwork Exhibit
Date: June 13, 2018
Time: 05:30 PM - 07:00 PM
Location: Museum L-A, Lewiston
---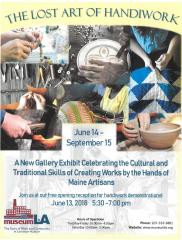 This summer, Museum L-A is honoring artisans throughout Maine in its new gallery exhibit "The Lost Art of Handiwork". For years, Museum L-A has been collecting the history of the ancestors of our community, preserving the mementos of their hard work, ingenuity, and creativity. Many of the pieces in the collection are handcrafted items, including an embroidered baptism set, hand forged golf clubs as well as personally designed wood, stone and metal weaving hooks. These represent a traditional history of making things in our community that has almost been forgotten.
The public is invited to attend the free opening reception for the exhibit on Wednesday, June 13 from 5:30-7:00 pm. Throughout the evening, visitors will be able to meet and talk with the crafters about their work that is on display as well as watch demonstrations of real-time weaving and embroidery by local groups and community members.
"The Lost Art of Handiwork" will be on display in the Museum L-A gallery from June 14 – September 15. Throughout the duration of the exhibit, crafting events and workshops hosted by Museum L-A will be available for the public to attend.
Museum L-A is located in the Bates Mill Complex at 35 Canal Street in Lewiston, Maine. Its hours of operation are Tuesday through Friday from 10 am to 4 pm and Saturdays from 10 am to 3 pm. Special tour requests and large group tours outside of these hours are available by appointment.
Filter Events
Venue
Museum L-A
35 Canal Street
Lewiston
ME
04240
Kathy Becvar
2073333881
gro.almuesum@ravcebk