Neveah Dance Circus-Family Fun DAYS
Date: July 24, 2021
Time: 10:00 AM
Location: Denmark Arts Center, Denmark
---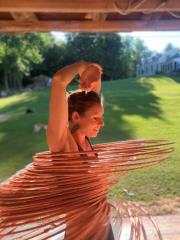 Denmark Arts Center (DAC) Kids Camps will be held in Bicentennial Park across from the Arts Center. DAC will follow CDC guidelines for outdoor events-Rain or Shine (Pavilion & Tent onsite). Family Fun SaturDAYS will be a Pay-What-You-Can this summer. Pre-registration is requested.
Nevaeh Dance Circus is the creation of sisters, Nettie and Hannah Gentempo. The two women founded the group in 2005, while still in their early teens. In 2016 the sisters evolved the company from Nevaeh Dance Company into Nevaeh Dance Circus. Together Nettie and Hannah Gentempo have created a world of their own and they welcome you to experience all color, sound and artistic freedom that it has to offer!
Funded by grants from the Maine Bicentennial Commission, Davis Family Foundation, Kendal C. & Anna Ham Charitable Foundation, and Town of Denmark-THANK YOU!