New Sound Installation + Concert + Performance:
Date: August 24, 2019
Time: 07:30 PM - 08:30 PM
Location: The Cannery at South Penobscot, Penobscot
---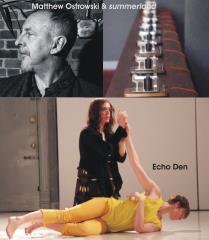 Echo Den is the duo of Chicago-based experimental vocalist Carol Genetti (https://soundcloud.com/user-813430280) and Philadelphia-based dance artist Asimina Chremos (https://asiminachremos.space/about). The two have been performing together on and off for over 15 years, exploring a primal sisterhood through nuances of voice and gesture, sensitive improvisational practices, and deep inner listening.
Mathew Ostrowsky (https://ostrowski.info/)is a native New York City composer, performer and installation artist. His summerland is an installation for 24 antique telegraph sounders where all sounds are derived from the writings of Morse and transcripts of Fox's communications with the Summer Land. For the opening of the piece, Ostrowski will present a solo concert with laptop and electronics. At the closing of The Cannery's Sound Installation Festival in October, summerland will be shipped tothe New Technological Art Awards show at Zebrastraat in Ghent, Belgium. We are very fortunate to have a chance to see this show here beforehand! (as Ghent would be a long way to travel). Summerland is made possible by the New York State Council on the Arts with the support of Governor Andrew M. Cuomo and the New York State Legislature.
The following are the season's ongoing sound installations that summerland will join:
Luciano Chessa, #ooffoo #ffooff, aninteractive installation which merges the experience of traditional framed art with sound art.
Steve Norton,Requiem, an electroacoustic composition whose sound material is of species which have gone extinct during the era of recorded sound.
Leslie Ross, water harp; the Winslow Sirens,a sound construction that uses a discarded electrical factory box, unused canning cans and the flowing Winslow Stream to excite strings. Funded in part by a grant from the Maine Arts Commission, an independent state agency supported by the National Endowment for the Arts.
Walter Wright, a multi-media portrait, a site-specific quadrophonic sound and multi-channel video installation based on patterns and rhythms observed during his residencyat the Cannery.
Sound installation Festival, June 15–extended to--October 6
Open for viewing: Fridays 4-6 pm, Sundays 1-4 pm, and by appointment