Patricia Chandler Exhibits Paintings in July at Richard Boyd Art Gallery
Date: July 1, 2017 - July 30, 2017
Time: 09:00 AM - 05:00 PM
Location: Richard Boyd Art Gallery, Portland
---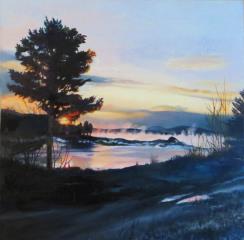 Born and raised in Maine, Patricia Chandler's career as a trained commercial and fine artist spans multiple genres including illustration, portraiture, and landscapes. Her current series of paintings represent a trend toward abstraction and depict her ongoing interest in mood, atmosphere, and spatial relationships.
The public is invited to meet Patricia at a reception at Richard Boyd Art Gallery Saturday, July 1 between the hours of 12:00 noon and 3:00 p.m. when she will be available to discuss her current series of paintings. The exhibit is open free of charge between the hours of 10:00 a.m. and 5:00 p.m. daily through July 30, 2017.
Richard Boyd Art Gallery is located on Peaks Island in Portland, ME at the corner of Island Avenue and Epps Street. For additional information about the exhibit or reception please contact the gallery by phone at 207-712-1097, via email at info@richardboydartgallery.com or visit http://www.richardboydartgallery.com . Like the gallery on Facebook at http://www.facebook.com/RichardBoydArtGallery .
Copyright(C)2017 Richard Boyd Art Gallery All Rights Reserved.