Paula Poundstone Live On Stage
Date: September 7, 2019
Time: 08:00 PM - 10:00 PM
Location: 1932 Criterion Theatre, Bar Harbor
---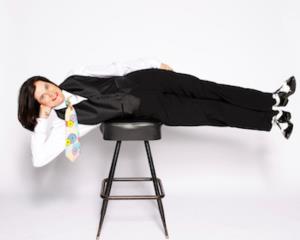 Paula Poundstoneis a humorist, author and comedian known for her clever, observational humor and spontaneous wit. When she isn't collecting hotel soaps while on tour or paneling on NPR's #1 show, Wait, Wait...Don't Tell Me!, Paula hosts the popular Maximum Fun podcast, Nobody Listens to Paula Poundstone. Nobody is a comedy field guide to life complete with taste tests, cats of the weeks and leading experts in everything from beekeeping to ping pong to prosopagnosia (say that 3 times fast).
Paula's stand-up credentials are endless: Cats, Cops and Stuff; Goes to Harvard; Look What the Cat Dragged In; and numerous television appearances including The Late Show with Stephen Colbert, Last Call with Carson Daly and Late Show with David Letterman.
Paula can be heard on the big screen as "Forgetter Paula" in Disney/Pixar's Inside Out, winner of the 2017 Academy Award for Best Animated Feature Film. Shehas also starred in her own series on both HBO and ABC, is included on Comedy Central's Top 100 Comics of All Time and won an American Comedy Award for Best Female Stand-Up. In February 2019, Paula's stand-up special, Cats, Cops and Stuffwas named by TIME Magazine and Tig Notaro as one of The 5 Funniest Stand-Up Specials Ever. You can follow Paula on her Website, Twitter, Facebook, and Instagram pages.
All ages are welcomed, but please note that some "PG-13" language will likely be heard during the performance. Please use parental discretion.
Filter Events
Venue
1932 Criterion Theatre
35 Cottage Street
Bar Harbor
ME
04609
Sarah Jackson
207-288-0829
gro.ertaehtnoiretirc@haras