Puppet Camp Ages:7-14
Date: August 11, 2021
Time: 10:00 AM - 02:00 PM
Location: Denmark Arts Center, Denmark
---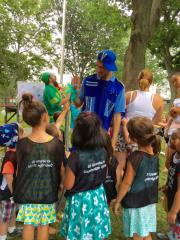 Denmark Arts Center (DAC) Kids Camps will be held in Bicentennial Park across from the Arts Center. DAC will follow CDC guidelines for outdoor events. Kids Camps are FREE this summer. Pre-registration is required.
Puppet Camp 8/11-13 10-2pm Ages: 7-14
Join Boston's most playful theatre ensemble, Liars & Believers. Learn the FUNdamentals of Puppetry, Improv, and Clown. Make your own puppet, go home with a nose, and get ready to make some trouble!
In our three days together, we'll learn some of the basic skills you need to be a creative and fun theatre artist. Each day we'll have a classes in: Improv, in which you'll learn how to think on your feet and make up something out of nothing; Puppetry, in which you'll learn how to bring inanimate objects to life; and Clown, in which you'll discover you most simple, honest, and silliest you. We'll not only develop new skills, we'll send you home with your own puppet and a clown nose.
Please bring appropriate clothing for being outside throughout camp. Camps will be held outside, rain or shine (Rain coat, an extra layer, good footwear). We'll take plenty of breaks for snacks and water. Make sure you bring those snacks, water, and your lunch – plus sunscreen and bug spray. — We're going to have a great time.
This camp will fill up fast so register below quickly and click here to fill out your DAC-CAMP-Registration-Release-form-2021-fillable
Thanks to the generosity Kendal C. & Anna Ham Charitable Foundation, Maine Bicentennial Commission, Davis Family Foundation, and Town of Denmark 2021 camps are FREE.