Salazar: Mexico Years
Date: January 5, 2016
Location: UMVA, Porthand
---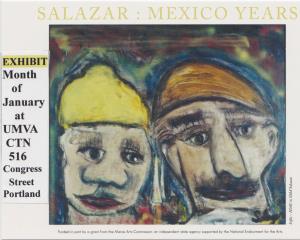 SALAZAR : MEXICO YEARS
Salazar (Roland Salazar Rose) is showing a selection of paintings from his "Mexico Years" at the Union of Maine Visual Artists' Gallery (UMVA) at 516 Congress Street, offices of the Community Television Network January 1, 5:00 to 8:00 PM, continuing through January 31. GALLERY HOURS: weekdays Monday – Friday: 12 noon – 5pm; other hours by special arrangement: 207-869-0999.
Curator of "Mexico Years" is John Ripton, Ripton is a Latin American scholar (PhD Columbia University), former, Chair, History Department, St. Bernard's School/Rutgers University, he now resides in Maine. He commented: "I met Roland (Salazar) after I saw a number of his paintings and wanted to find him to see more of his work. He welcomed me into his studio in Biddeford and I offered to assist him in putting together an exhibition of his Mexican work. I felt strongly that his work deserves a wider attention." Roland and John joined in submitting to the Maine Arts Commission (MAC) a visual artist grant request which received funding for 2015-16. The show at UMVA/CTN space is supported in part by the MAC grant award.
Salazar's Awakening: "In Mexico, beginning in 1989, Roland Salazar Rose encountered the spiritual awakening of an artist that brings the heart and mind spontaneously to hand. Salazar produced nearly 2000 paintings spanning three decades at the turn of the 21st century. It is work created in several series, purposefully depicting in mythic dimension the people, culture and landscape of Mexico. His work, as with all great art, wrestles with the deepest philosophical questions of contemporary existence."
---John Ripton, PhD, Curator
A Mexican City press review of his exhibition: A Ten Year Retrospective: "Gods, Land & People of Mexico; Dioses, Tierra y Gente México" at the Diego Rivera Museum concluded: "Salazar (his painting name) has a strong natural bent toward expressing abstractions with use of form and color. Also, very evident is an emotionally alive lyricism with subtle variations of light bursts, guided by experimentation in the Latin American tradition." Director Guillermo Zajarias, AURA GALERIAS, Mexico City says: "In the many years Maestro Salazar has been making México his part time home he has acquired a distinctive style and vibrant coloring probably influenced by the magical light that envelops the beautiful town in central Mexico where he paints. His landscapes transmit the geographical beauty of this area, as well as the myriad of faces portrayed as if these were commissioned portraits of imaginary people. His technique is unique, utilizing a masterful combination of mixed media, using chapapote or tar to enhance the magnificent end result; a rich work of art that reflects the singular talent and personality of this fine artist."
Roland received his studio art experience in Paris at Ecole Superieur des Beaux Arts and in New York City at both the National Academy of Design and the Art Students League. His work has been shown in exhibitions worldwide, and is included in permanent collections at the Instituto Mexicano-Nortearericano de Relationes Culturales, AC, Mexico City, among others. He has published nine e-art books, a memoir, My Father's Room, a DVD The Four Seasons of the Master Myth, which aired this year on MPBN in June and Dec. In Maine his paintings seek to express its true essence. He says: "For I paint 'Maine' as unforgiving. The land, sea and sky as uncompromising, demanding your daily awareness, and testing your ability to live with nature as a constant in your life."
It seems strangely approprate that Salazar is showing at an alternative space (UMVA/CTN), 516 Congress Street, as he was the founder of the Danforth Gallery, one of the first artists' spaces in Portland, Maine, which held hundreds of successful exhibitons (1986-2004). What goes around, comes around. Welcome back to Maine, Salazar, octogenerian young, still painting at his Loft space at 265 Main Street, Biddeford, please
see Studio-265-Gallery.
UMVA/CTN Gallery Hours: Monday - Friday 12 noon - 5pm. Contact TEL: 207-869-0999