Seanachie Nights
Date: September 17, 2018
Time: 07:00 PM - 09:00 PM
Location: Bull Feeney's, Portland
---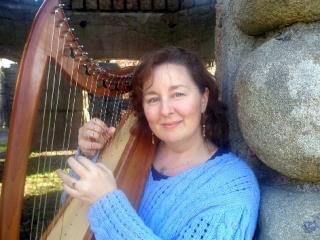 Seanachie Nights welcomes Musician/Singer/Storyteller Kate Chadbourne in a 'Celtic Harvest Celebration'
"Could anything be lovelier than the chance to return to Bull Feeney's enchanted room and the warm hosting of ... Lynne Cullen? You can feel the richness of dozens of storytellers and singers who have filled this room with their magic, and I am honored to join them on a September night. And to weave my own spell so close to the sea in the company of beloved friends and family ... and you."
–Kate Chadbourne
Kate Chadbourneis a singer, storyteller, and poet whose performances combine traditional tales with music for voice, harp, flutes, and piano. She holds a Ph.D. in Celtic Languages and Literatures from Harvard University where she teaches courses in Irish language and folklore – but the heart of her understanding of Irish folk tradition comes from encounters with singers, storytellers, and great talkers in Ireland.
Whether Kate is singing, telling stories, or sharing a poem, she aims to leave her audiences moved, enlivened, and eager for their own adventures.
For more info about Kate, visit www.katechadbourne.com.
For information about Seanachie Nights, contact Lynne Cullen at thetwacorbies@yahoo.com or at 207-805-1062. www.lynnecullen.com.