Seanachie Nights
Date: December 17, 2018
Time: 07:00 PM - 09:00 PM
Location: Bull Feeney's, Portland
---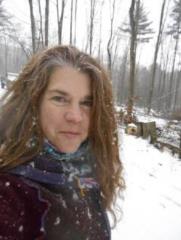 Seanachie Nights, a monthly series of spoken word/musical performances from Celtic and British culture, is pleased to feature, on Monday, December 17, balladeer Peg Aloi with songs from Scotland, England and Ireland, and original poetry in celebration of the winter Solstice. The Seanachie Nights Regulars will join the festivities with music on fiddle by Janet Lynch and concertina by Lynne Cullen.
Most modern pagans acknowledge Yule as the rebirth of the light half of the year; some traditions perform the play of the Oak King and the Holly King, just as it is done at Midsummer, to mark the change of the seasons as one of them reigns over the other.
Peg Aloi is a traditional singer from Troy, NY, who has sung and recorded music with a number of groups throughout New England. She has also hosted open mics and bardic circles via the pagan festival circuit for several years. She's an award-winning poet whose most recent work appears online in LunaLuna Magazine.
Seanachie Nights was created in 2006 by host Lynne Cullen to celebrate traditional stories and music from Ireland, England, and other parts of the world.