Seanachie Nights
Date: May 20, 2019
Time: 07:00 PM - 09:00 PM
Location: Bull Feeney's, Portland
---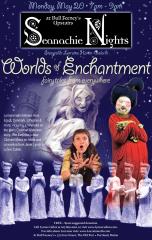 Seanachie Nightsis pleased to feature Lorraine Hartin-Gelardi,telling "Worlds of Enchantment: Fairy Tales from Everywhere," with traditional music on concertina from Lynne Cullen.
For every time and place there's a fairy tale. Join Lorraine Hartin-Gelardifor an evening of fairy tales from different cultures, different perspectives. Tales from Lithuania (Vasilisa), Egypt,The Little Match Girland The Empress'sNew Clothes(a new take on the Hans Christian Andersen story).
Lorraine Hartin-Gelardi has been sharing stories with all who will listen for over twenty years. Recently she has been traveling and telling tales at The Stone Soup Festival in South Carolina, the Connecticut Storytelling Festival and the Granite State Story Swap, and is delighted to be back at Seanachie Nights to offer her renditions of her favorite wonder tales, including, "A Mother's Quest", a story inspired by the Scottish folktale, "The Stolen Bairn".
To hear Lorraine tell stories, visit: http://www.lorrainetells.com/video-stories.shtml
Seanachie Nightswas created in 2006 by local (seanachie) storyteller, artist, musician, and playwright Lynne Cullen to keep alive stories and music from the Celtic – and other – oral traditions.