Seanachie Nights-Kate Chadbourne
Date: September 16, 2019
Location: Bull Feeney's, Portland
---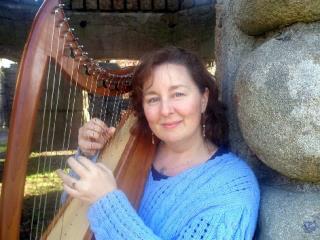 Seanachie Nights, a monthly series of spoken word/music performances from Celtic and British culture, welcomes Musician/Singer/Storyteller Kate Chadbourne in a 'Celtic Harvest Celebration'.
"Could anything be lovelier than the chance to return to Bull Feeney's enchanted room and the warm hosting of ... Lynne Cullen? You can feel the richness of dozens of storytellers and singers who have filled this room with their magic, and I am honored to join them on a September night. And to weave my own spell so close to the sea in the company of beloved friends and family ... and you."
–Kate Chadbourne
Kate Chadbourne is a singer, storyteller, and poet. She holds a Ph.D. in Celtic Languages and Literatures from Harvard – but the heart of her understanding of Irish folk tradition comes from encounters with singers, storytellers, and great talkers in Ireland.
Kate is also the founder of The Bardic Academy, a school for great-hearted people learning and growing at the crossroads of art and magic. She brings to her audiences the sounds of the harp, piano, tin whistle, Irish flute, and melodeon, a deep love and knowledge of traditional Irish story, a warm and welcoming presence, and a voice often described as "the voice of an angel."
For more info about Kate, visit www.katechadbourne.com