Seanachie Nights: Tales of the Feline Race
Date: February 17, 2020
Time: 07:00 PM - 09:00 PM
Location: Bull Feeney's Pub, Portland
---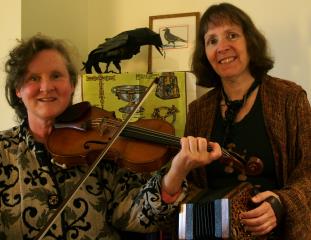 Seanachie Nights presents:
Tales of The Feline Race
Seanachie Nights, a monthly series of spoken word/musical performances from Celtic and British culture, presents Lynne Cullen, Janet Lynch and Kurt Kish in: Tales of the Feline Race.
*A portion of this evening's proceeds will be donated to Friends of Feral Felines (FOFF) www.feralfelines.net
Storyteller Lynne Cullen will take you on a journey to the secret world of cats, with stories and songs about this mysterious and misunderstood animal. Seanachie Nights Regulars Janet Lynch and Kurt Kish will provide cat-inspired music on fiddle and concertina.
From the frozen wastes of Iceland, where Jólakötturinn the Yule Cat stalks, to pea green boats, from mediaeval Ireland to the Realm of Dream, Lynne and Janet will transport you with comedies, tragedies, and mysteries of the illustrious members of Felis sylvestris.
Lynne Cullen became a storyteller while living in England. Her performances are influenced by folktales, Rod Serling, and classic Warner Brothers' cartoons.
As a solo musician Kurt Kish has developed an original voice on guitar. Now he has taken up the concertina.
Actress, fiddler, and singer Janet Lynch has performed in works by Brian Friel, Martin McDonagh, J.M. Synge, and Chaucer.
Seanachie Nights is the creation of local (seanachie) storyteller Lynne Cullen.