Soul Path Discoveries
Date: August 19, 2019
Location: Ferry Beach Retreat & Conference Center, Saco
---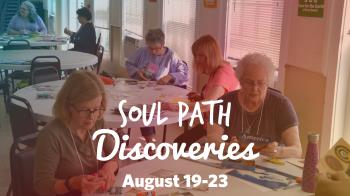 Are you ready for changes and craving inspired guidance to stimulate new pathways that will lead you to to a life filled with creativity, pleasure, love, and a sense of life purpose and meaning? Are you seeking new adventures in your life? Spend four days from 5 PM for dinner on Monday, August 19, through lunchtime on Friday, August 23 with Deborah Knox and Gail McMeekin, LICSW as they take you on a life-changing Soul Journey, where images, imagination, intuition, and writing your life stories, serve as a fun and potent catalyst that will illuminate clear, divine next steps for your unique Soul Path.

We will:
Learn the powerful tools of SoulCollage(R) and Spiritual Autobiography and how they beautifully complement each other
Make SoulCollage(R) Cards, accessing the magic and wisdom of these Cards to help answer your Soul's current challenges
Write powerful stories for your Spiritual Autobiography, using your Cards as a prompt for discovery and insight
Create a visual and written Journal with your Cards and your personal Stories as a guide and roadmap for spiritual growth
​
This workshop will be interactive and varied using new combinations of Spiritual Autobiography writing exercises, SoulCollage® Card Making, visualizations, journaling, work in dyads and small groups, meditations, etc. We are committed to making sure that each participant has a voice in this experience. You do not need to have writing or artistic talent to participate fully in this group. All materials will be provided by the facilitators, but we recommend that you bring your personal journal and any images that you wish to explore.