Stories from the Sea
Date: June 26, 2022
Time: 10:30 AM - 12:00 PM
Location: Merry Barn Writers' Retreat, Edgecomb
---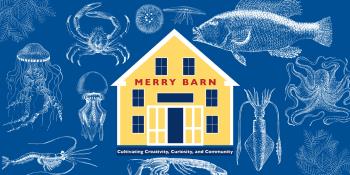 Stories from the Sea
Kick off Windjammer Days with Stories from the Sea, a free Community Literacy Event at the Merry Barn Writers' Retreat. Join us to share in a read aloud, learn the history of sea shanties, and co-create a mural. Come paint a sea creature, sing-along, and enjoy nautical lore!
Sunday June 26th, 10:30- 12:00 p.m.
The Merry Barn, 417 River Road, Edgecomb
Community Literacy Events at the Merry Barn are monthly gatherings geared to children and open to the whole community. These events highlight creativity through read alouds and engaging projects, bringing together folks across generations and backgrounds.
For more information, www.merrybarn.com or info@merrybarn.com or @merrybarnmaine on Instagram.