The Art of Icon Painting
Date: June 18, 2022 - July 16, 2022 (Saturday)
Location: Christ Church, Kennebunk
---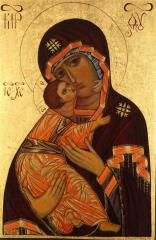 Master icon maker and art histrian, Marina Forbes, will offer "The Art of Icon Painting" workshop at the Christ Church (6 Dane Street, Kennebunk, ME 04043) in Kennebunk, ME.It is a 16-hour hands-on studio course for students interested in learning how to create traditional icons, one of the world's oldest and most respected forms of religious art. The class will meet on 4 (four) Saturdays from 10am to 2pm: June 18 and June 25, July 9 and July 16. The program will include a detailed discussion and demonstration of traditional materials and methods of icon making. Then, under the direction of the instructor, students will create their own icons using a combination of traditional and contemporary materials and methods. Students will learn about board and painting surface preparation, gessoing, image rendering, pigments, brush strokes techniques, detailing, highlighting, gilding, Old Slavonic lettering, and varnishing.No painting experience is required for this Icon Painting class. Experienced artists will also feel very comfortable in this workshop.
For more information or pre-register please contact Marina Forbes directly at (603) 332-2255, by e-mail at marina@marinaforbes.com.
The Icon of "Mother Of God of Vladimir" (wood, egg tempera, 23-k gold) is by Marina Forbes.