The Gift of Languages: Paradigm Shift in US Foreign Language Education Book Talk with Dr. Kathleen S
Date: March 18, 2022
Time: 05:00 PM - 06:00 PM
Location: USM Franco-American Collection, Lewiston
---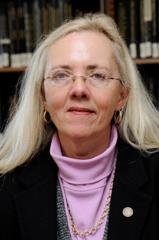 The Franco-American Collection at the University of Southern Maine invites you to join us on Zoom on Friday, March 18, 2022, 5 pm-6 pm, to celebrate the month of Francophonie with a talk by Dr. Kathleen Stein-Smith.
We are excited to welcome Kathleen Stein-Smith, Ph.D, to discuss her book,The Gift of Languages: Paradigm Shift in US Foreign Language Education. Dr. Stein-Smith, Chevalier dans l'Ordre des Palmes académiques, is a dedicated foreign language educator and advocate. She teaches at Fairleigh Dickinson University in New Jersey. She serves as Chair of the American Association of Teachers of French (AATF) Commission on Advocacy and as a member of the American Translators Association (ATA) Education and Pedagogy Committee and the MLA Delegate Assembly. She is also active in foreign language education associations, including the NECTFL Advisory Council, CSCTFL Advisory Council, and as a SCOLT sponsor. She has presented at numerous professional conferences at the state, regional, and national level, is the author of six books and numerous articles about the foreign language deficit and the importance of multilingualism, has given a TEDx talk on the U.S. foreign language deficit, has been interviewed by press and radio, and maintains a blog titled Language Matters.
Dr. Stein-Smith will discuss her book, The Gift of Languages, which, according to TBRbooks.org, "explores the many advantages of multilingual education and sets the stage for a new paradigm in our approach to teaching and learning languages. The book touches on the issue of foreign language deficit in the US and the changes that need to occur in our schools to better serve our children and our linguistic communities." Following her presentation, there will be a Q & A session with the audience.
There is no fee for our programs which are made possible by a generous grant from the Québec Delegation in Boston. The Delegation has shown itself enthusiastic in supporting Franco-American initiatives presented by institutions like the USM Franco-American Collection.
Register here for the Zoom link: https://maine.zoom.us/meeting/register/tZcpcuqqrz4vE9RKRH6kN2GcobCpi6kEjn-B