Tour of Nellieville!
Date: May 19, 2019
Time: 02:00 PM - 03:00 PM
Location: Nervous Nellies Jams and Jellies , Deer Isle
---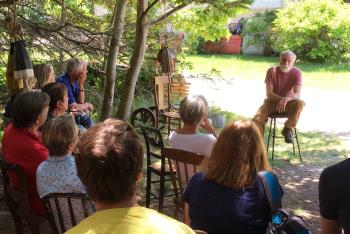 Sculptor Peter Beerits offers an informal tour of Nellieville, his quirky, found object installation of a Western town, juke joint, general store, Arthurian Grail castle, wizard's tower and a church-in-the-woods. Beerits has been making sculpture for more than 40 years using the bygone material and equipment of local livelihoods, like fishing, farming and forestry. 598 Sunshine Rd, Deer Isle, Maine 04627; 800-777-6845; www.nervousnellies.com.
2019 Date's – All Sundays at 2pm:
May 19
June 2
June 16
June 30
July 7
July 28
August 11
September 1
September 15
September 29
October 13
No Reservation Needed
Filter Events
Venue
Nervous Nellies Jams and Jellies
598 Sunshine Rd
Deer Isle
ME
04627
Anne Beerits
moc.seillensuovren@maj