UUCB Concerts for a Cause: INANNA, Sisters in Rhythm
Date: January 12, 2019
Time: 07:30 PM - 09:30 PM
Location: Unitarian Universalist Church of Brunswick, Brunswick
---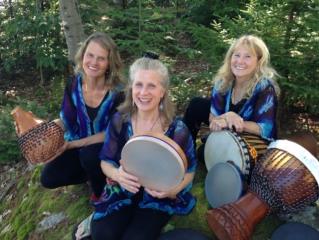 UUCB Concerts for a Cause is pleased to present the Inanna, Sisters in Rhythm, on Saturday, January 12 at 7:30 at the Unitarian Universalist Church of Brunswick. (Snow date: Sunday, January 13 @ 3pm)
Inanna, Sisters in Rhythm, is an all-women's percussion and vocal ensemble dedicated to cultural diversity, education, and healing through the universal language of music. The roots of Inanna's music come from traditional world songs and rhythms of Africa, the Middle East, Latin America and other indigenous cultures. Blended with their own western vocal harmonies, they bring forth an ancient sacred sound that feeds the soul and lightens the heart.
Inanna was originally created by the participants of a drum class in Alna, Maine in 1989. At their first official concert during Winter Solstice, the women of Inanna witnessed the power of the drum in its role of building conscious community and of cultivating great joy. To quote musician and composer Reinhard Flatischler, "Drumming is one of the most pleasurable, simple and radical accesses to the Here and Now, to the total experience of the present moment. And that is extremely healing."
Inanna takes their name from an ancient Sumerian goddess, who held reign more than 4,000 years ago during a period when it is believed that drummers and dancers were predominantly women. The ensemble chose the name of this goddess in the hopes of raising awareness of the need for divine feminine energies to bring about balance to our planet.
Together for 28 years, the band has recorded six full-length albums, been invited to schools to teach drumming and world cultures to youth, and have performed extensively at numerous percussion festivals and community events. Members of the ensemble have traveled throughout the world to study with master drummers including Famoudou Konaté, Yaya Diallo, Layne Redmond, Glen Velez, and Babatunde Olatunji.
Inanna Video: I Shall Find You Live https://youtu.be/FZO59THoUhcTickets are $12 in advance or $15 at the door. $8 for students/children. Available at the church office (729-8515), at Gulf of Maine Books, or ONLINE at https://inanna.brownpapertickets.com/
Filter Events
Venue
Unitarian Universalist Church of Brunswick
1 Middle Street
14 Merrymeeting Rd
Brunswick
ME
04011
Organization
Unitarian Universalist Church of Brunswick
Shirley Bernier
207-729-8515
ten.iwg@snurbuu
www.uubrunswick.org