Zillman Art Museum's Fall 2021 Exhibitions
Date: September 24, 2021 - December 30, 2021 (Tuesday, Wednesday, Thursday, Friday, Saturday)
Time: 10:00 AM - 05:00 PM
Location: Zillman Art Museum - University of Maine, Bangor
---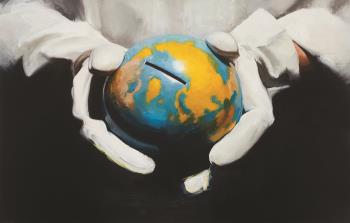 PRESS RELEASE
Zillman Art Museum - University of Maine
September 15, 2021
Zillman Art Museum announces Fall 2021 Exhibitions

BANGOR – The Zillman Art Museum, located at 40 Harlow Street in downtown Bangor, opens eight new exhibitions in September 2021. ZAM is open Tuesday-Saturday from 10 am - 5 pm and brings modern and contemporary art to the region, presenting approximately 24 original exhibitions each year. ZAM's fall shows open to the public on September 11, 2021. Admission to the Zillman Art Museum is free in 2021 thanks to the generosity of Birchbrook.
EMILY EVELETH: FUTURE POSSESSIVE
September 11 - December 30, 2021
The Zillman Art Museum is pleased to present Future Possessive, a solo-exhibition of works by Boston-based artist Emily Eveleth. Through the elusive nature of her compositional subjects and elegant, yet reserved palette, Eveleth opens many doors of inquiry for the viewer. Her dramatic scenes are rendered with strong directional lighting, confident manipulation of paint, and unexpected vantage points. The identities of Eveleth's subjects are partially obscured by elements like gloved-hands, theatrical makeup, and her inventive use of cropping. As an essential element in constructing a narrative, the observer is encouraged to ponder the relationship of the figures.

The large-scale painting, Possessive Determiner, created especially for the ZAM exhibition, is a three-paneled composition spanning over 15 feet. In this work, Eveleth has crafted a puzzling scene. A white-faced pantomime plays the role of a billiards referee and crouches down to inspect the actions of a player who is poised to forcefully send the cue ball across the table towards a mammoth globe. Are we playing an irreversible game with the state of the planet? When asked if there are plots to these paintings, Eveleth offers that "the answer lies in the idea of causality. The elements have a relationship to each other beyond simply temporal linearity."

In the large painting, Present Imperative, Eveleth creates another intriguing scene that is ripe for questioning. Is the foreshortened tuxedoed figure reclining on the floor in distress, or even worse, deceased? The recumbent person brings to mind Édouard Manet's 1864 painting, The Dead Toreador. The positioning of Manet's heroic subject looks noble and staged, unlike what we would actually expect to witness in the aftermath of being gored by a bull. Like Manet's composition, Eveleth's model, donned in formal attire, is bathed in dramatic light as it lies on the floor with one hand placed gracefully on its torso. What role does the ominous silhouetted figure, with its gloved hand and world globe casually resting on its hip, play in this mysterious setting?
Admission to the Zillman Art Museum is FREE in 2021 thanks to the generosity of Birchbrook.
###
ROMAN FRANC: WATCH THE BIRDIE!
September 11 - December 30, 2021
Watch the Birdie! features over 40 black and white photographs by Roman Franc, who lives and works in Brno, Czech Republic. Franc explores both individual subjects in his work —such as a series of portraits of his brother at various ages —and images in which he orchestrates large groups of people.

Franc's ability to harness the nuances of available light for his creative purposes, as well as his unwavering attention to find the perfect setting for his compositions, keep his portraits centered within the realm of fine art. His photographs of people, many of whom are personally known to the artist, range from the sensitive to the absurd, and from the humorous to the disconcerting. For instance, in Portrait Series-Twins, Franc has snapped an image of two young twin girls whose makeup-covered faces emerge from the darkness. The blank gazes of the girls and blackened circles around their eyes border on the macabre.

In several images, the artist enlists unclothed subjects who, when placed in the artist's unique settings, evoke the absurd. These works bring to mind luminary Diane Arbus, who's frontally positioned subjects exude self-assurance in their nakedness. In Memories, Franc depicts two nude brothers with strikingly pronounced tan lines standing in what appears to be an unforgiving desert, yet they reflect a calm coolness despite their unfortunate condition of being severely sunburned.

Pictures such as these require the ability of the artist to create relationships with their subjects and garner trust at break-neck speeds. Franc's affable nature and the passion that he exudes for his work instill a confidence in his subjects that allow them to reveal themselves with vulnerability and honesty.

The Zillman Art Museum greatly appreciates the generous support of the Ministry of Culture of the Czech Republic for its support of the Watch the Birdie! exhibition.

Admission to the Zillman Art Museum is FREE in 2021 thanks to the generosity of Birchbrook.
###
SHONA MACDONALD: tender land
September 11 - December 16, 2021
Shona Macdonald's exhibition tender land, features drawings and paintings by Massachusetts-based artist Shona Macdonald. In her Sky on Ground paintings, Macdonald depicts observations of nature and the built environment reflected in ground water including fragments of imagery that often lie unnoticed beneath our feet. "Cropped by the edges of puddles, I noticed parts of the landscape were displaced creating truncated images of buildings, posts and trees looking back up at us," says the artist. In the diptych, Sky on Ground # 17, the pristineness of Macdonald's reflected skyscapes—which seems to hover in a monochromatic gray expanse—is interrupted by the curved pattern of road markings.

The artist's Ghosts series is a group of delicately rendered drawings. In three works, including Ghost Large #12, the artist has used silverpoint, a transient medium whose tone changes over time, to depict an array of shrubs shrouded by transparent landscape cloth. The protective fabric obscures details of the plants and creates isolated, draped masses that seem to float on Macdonald's polished white fields.
Admission to the Zillman Art Museum is FREE in 2021 thanks to the generosity of Birchbrook.
###
SIDNEY RUSSELL: THE BIG STITCH
September 11 - December 30, 2021
The Big Stitch features a dramatic collection of larger-than-life creations by San Francisco-based artist Sidney Russell. Through her innovative use of materials, Russell combines hand painting with sewing to create works that are inspired by vintage designs. Russell fashions huge dresses, pants, and shirts—some over nine feet tall—which challenge the viewer's perception of scale. As visitors encounter these garments hanging from oversized hangers and hooks, they are compelled to view themselves in relation to the gargantuan objects.
According to the artist, the massive reproductions are of real articles of apparel worn by people from her past and remind her of significant events or of the individuals themselves. The replication of familiar, and sometimes secondhand clothing, evokes humor, nostalgia, and bemusement. Russell's sewn creations bring to mind the works of Claes Oldenburg, a central artist of the Pop art movement, who was known for his large replicas of everyday objects. Russell's pieces share a similar lighthearted humor with Oldenburg's soft sculptures which were made from materials such as vinyl and cloth. Both Russell and Oldenburg's works are realized on a magnified scale that reverses the traditional relationship between viewer and object. Additionally, Russell's sculptures emulate Oldenburg's creative process in how they generate a bizarre and whimsical transformation, which can be both entertaining and imposing.
In Hawaiian Shirt, 2016, Russell has painted bold tropical floral patterns onto large swaths of fabric and then stitched the pieces to form a colossal garment. The lifelessness of the clothing, exaggerated by the immense weight it sags under, hangs awkwardly on the wall. The artist's attention to minute detail, captured in epic proportions, is apparent in the portrayal of scuff marks on the sleeves and hem.
Russell's recent works, The Hiking Boot and Backpack, were created especially for the Zillman Art Museum exhibition and pay homage to Maine's culture of outdoorsy adventures. The Hiking Boot, with its massive treads and bright red dangling laces, is a delight for viewers as they witness the radical shift in scale of a familiar utilitarian object. The functional yet sporty appearance of Backpack plays on the consumer obsession with practical, yet stylish, outdoor gear.
Throughout her career, Russell has remained dedicated to the counterculture movement that has defined San Francisco's artistic legacy. The meticulous detail and epic proportions of her works depict personally important moments in her history. Just as memories can be layered, so too can garments spark memories of the wearer, time, and distinct places.
Admission to the Zillman Art Museum is FREE in 2021 thanks to the generosity of Birchbrook.
###
AMY STEIN: DOMESTICATED
September 11 - December 30, 2021
Domesticated features a selection of photographs by Los Angeles-based artist Amy Stein. The artist employs the contradictory nature of photography as a means to record factual evidence, as well as a medium for expressing fictional narratives. According to Stein, the images in this series are based on real stories from local newspapers, interviews, and oral histories gathered from 2005-2008 in and around Matamoras, Pennsylvania.

These photographs capture stories of intentional and random interactions between the residents of Matamoras, and the wildlife inhabiting neighboring state game lands. Stein's attentively staged scenarios document these stories—presented as chance encounters that act as "modern dioramas of our new natural history."

The scenes invite the viewer to consider the contradictions in humanity's desire to connect with nature, alongside its resolve to tame it. The artist explores the incongruent notion that "humans choose to live on this border to experience that connection, but then practicality demands they build barriers to keep the wild away." The expansion and construction of domestic spaces, as evidenced in Stein's works, results in a loss of wildlife habitat.

Struggle (2008) captures an imposing bear seemingly wrestling to remove an opaque plastic bag from its head. The solitary creature, with its menacing teeth exposed, stands in an expansive field under overcast, dismal skies. The scene comments on the disposable nature of society and the impact of pollution on wildlife. The taxidermied bear becomes a symbol of an ecosystem in flux and on the edge of peril. Other images by Stein, including Howl (2007), and New Homes (2007), reiterate this theme in which animals are forced into a spectator's role as the changing environment threatens their existence.

Admission to the Zillman Art Museum is FREE in 2021 thanks to the generosity of Birchbrook.
###
Other ZAM exhibitions featuring works from the Museum Collection include:
ANNE ARNOLD: THE SOUL OF IT
September 11 - December 16, 2021
OPEN LENS: PHOTOGRAPHS FROM THE COLLECTION
September 11 - December 16, 2021
INFLORESCENCE: WORKS FROM THE COLLECTION
September 11 - December 30, 2021
Kathryn Jovanelli
Assistant Director for Finance, Administration & Membership
Zillman Art Museum - University of Maine
40 Harlow Street, Bangor, ME 04401
zam.umaine.edu
207.581.3370
Filter Events
Venue
Zillman Art Museum - University of Maine
40 Harlow St.
Bangor
ME
04401
Organization
Zillman Art Museum - University of Maine
Kathryn Jovanelli
207-581-3370
ude.eniam@jnyrhtak
www.zam.umaine.edu