"The Nine - State of Maine"
---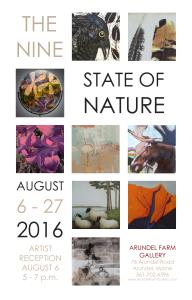 Arundel Farm Gallery presents "The Nine - State of Nature," an invitational art exhibition featuring a collection of 9 seasoned Maine artists, exhibiting 9 points of view in 9 different mediums.
Participating artists include: Kat Buchanan, Victoria Elbroch, Bonnie Faulkner, Dewitt Hardy, Norma Johnsen, Berri Kramer, Erica Radich, Susan Wilder and John Wiley. The show runs from August 6 -27th with an artists' reception held August 6th from 5 - 7 p.m. The event is free and open to the public.
Visitors to the Arundel Farm Gallery show will be delighted to discover such methods as scratchboard, encaustic, glass fusion, watercolor, monoprint, pastel, collagraph, oil and etching. All of these artists have honed their craft. They specialize in "slow cooking." Each element has a voice, which results in a powerful story.
The process of layering, fusing, subtracting, building and embedding are are forms and techniques used to explore a personal relationship with the environment. The medium is the message.
The gallery setting also celebrates history and timeless beauty. The 1790 renovated farmhouse and gallery sits on 9 acres just 1.5 miles from the rumble of Dock Square in Kennebunkport. Gallery owners, Julie and Paul Feingold, share a love of interior design, nature, and historic preservation. Julie's time honored color sense adds a sense of serenity to the curated collection as well as the carriage house gallery. The Arundel Art Gallery offers contemporary art that lives beautifully in traditional settings.
Two gallery spaces allow visitors to wander between the Carriage House Gallery which features a collection of fine art and American Craft, and the 1790 Gallery where special art exhibits and private house concerts are held. The gallery is located at 76 Arundel Road just 1.5 miles from Dock Square in Kennebunkport. For more information contact Julie Feingold at 561-702-6396 or visit the gallery website: www.ArundelFarmGallery.com.