1st Annual Sound Installation Month, Fall 2016
---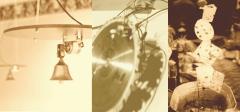 Opening Friday, September 16 at 7pm. The Cannery at South Penobscots presents its 1 Annual Sound Installation Month, featuring three exciting, innovative works by contemporary artists:
Sferics 2: Bell Cloud (N.B.Aldrich and Zach Ploff) is a kinetic soundscape where an array of motorized bells chime in response to magnetic disturbances in the atmosphere, known as sferics. The result presents the radio energy passing through us all the time as music composed by the probabilistic laws of the atmosphere itself.
Alloyata Automata Orchestra (Sonia Paço Rocchia) is part of a series of pieces for automated invented instruments. This computerized and motorized installation uses controled solenoids (a type of electromagnet) to make striking (!) sound and music with circular saw blades.
ice-on-wire (Leslie Ross) is a contemplation upon the intangibility and fickleness of passing time: ice melts as a wire is strum in slowest of glissandos, water drips & every once in a while a penny drops.
The installations will be up from September 16 through October 9.
Open Fri 4-6, Sat 2-4 & by appointment any time (207-326-2027)
Filter Press Releases
Contact Information
Leslie Ross
207 Southern Bay Rd
Penobscot
ME
04476
207/326-2027
ten.ssoreilsel@eilsel