A Long Blink by Maia Snow
---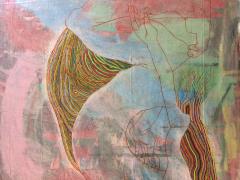 Artist Bio
Maia Snow was born in Perm, Russia. She moved to United States at the age of thirteen. She studied Painting at Maine College of Art (2013). Currently she lives, paints and works in Portland Maine. Her Paintings are interpretations of how she chooses to measure time.
About the show, A Long Blink
The will be on display March 3 - April 29 with opening reception Friday March 3, 5-8pm at Vestibule 594 located in the heart of the Arts Distric across from the Flea For All on Congress Street. Vestibule 594 is a ground level showcase-style gallery open on First Fridays and by appointment only. Shows rotate every two months. Visit VESTIBULE594.COM to see what is to come.
Floor: How do you measure time?
Ceiling: I watch her take long blinks, like sighing, but with the eyes.
Ceiling: and you, how do you choose to measure time?
F: I have no choice but to feel the weight of anything that is placed upon me. I take the feet and bodies of those who willingly and thoughtlessly walk on me every day.
C: Does it hurt?
F: sometimes
C: how does it hurt? Tell me where it hurts?
F: It hurts when the corners are not tended too. I like the dancing feet and the crashing bodies on the floor. Sometimes I even feel their skin, the bony elbows and kneecaps. It hurts in the middle, in my stomach, when they leave. In my throat too, when I know there is no way I could ever convince them to stay. I know one of them will be back in the morning, with light and fast waltz of the painting dance. I look for it every time the switch is flipped on.
F: Does it hurt to never be touched? Only occasionally looked at?
C: No. The touch of light and sound between the blinks are enough.