A Visit to Tandem Glass
---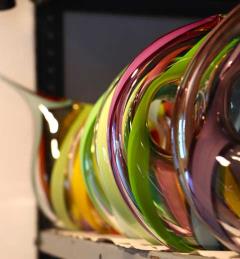 Learning in 'Tandem'
By Ryan Leighton - Marketing Director
During a recent trip to Dresden, we stopped in at Tandem Glass Gallery & Studio, a welcoming work space located right off Eagle Lodge Lane near the town center. I was accompanied by the Maine Arts Commission Visual Arts Director, Julie Horn and Sadie Bliss the Executive Director of the Maine Craft Association. During this studio visit we were eager to see the work and success of the craft apprenticeship program in progress.
Masters of glass Terrill Waldman and Charlie Jenkins own and operate this spacious studio that's bursting with light from every corner. Since migrating to Maine, the working pair have pumped out some prolific product. From every corner of the gallery brightly colored vases, speckeled vessels and decorative pieces attract the eye. Each piece unique and imaginative.
And the creativity contuines! Last year Tandem Glass applied for a grant to fund an apprenticeship for an up-and-coming Maine artisan. Enter Carel Shonerd. Carel, [pronounced like Carl] has been working at Tandem for 7 months, learning the elements of design, honing his style, and as Carl so aptly put it, developing "the zen mind it takes to be one with glass."
In my opinion what makes this craft apprentice program so special is that it provides the chance for local artisans to encourage peer learning, or perhaps a more appropriate term, "learning in tadem," to promote their art and increase the overall numbers in Maine's craftmakers community.
The Maine Arts Comission and Maine Craft Association hope to continue funding this program. And I look forward to meeting more craft artists around the state! To learn more about the Maine Craft Apprentice program visit the Maine Craft Association website.
Filter Press Releases
Contact Information
Ryan Leighton
193 State Street
SHS 25
Augusta
ME
04333
207-287-2726
vog.eniam@nothgiel.j.nayr