Artist Organizing Art Exhibit to Support Local Lobstering Community on Blue Hill Peninsula
---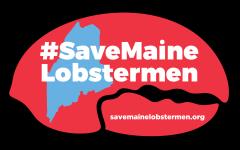 Artist Organizing Art Exhibit to Support Local Lobstering Community on Blue Hill Peninsula
The local lobstering community is facing unprecedented challenges. Drastically increased costs for fuel and bait, along with a decreased catch in Penobscot Bay, are putting economic pressures on the industry. At the same time, a challenging legal and political climate threatens the long-term future of Maine's lobstering heritage.
After speaking to local lobstermen in Brooksville, Maine, last summer, artist Sarah Baskin decided to organize an art exhibit to support the local lobstering community. The exhibit will run from July 3 through July 21, 2023, at the Brooksville Free Public Library in Brooksville, Maine. 50% of the proceeds from the exhibit will go to the Maine Lobstermen's Community Alliance ("MLCA") which, in partnership with the Maine Lobstermen's Association ("MLA"), is working to protect a sustainable lobster resource and the fishermen and communities that depend on it. The remaining 50% of the proceeds from the sale of an artist's artwork will be paid to the artist.
The exhibit is open to any artist who spends all or part of the year on the Blue Hill Peninsula, including the towns of Blue Hill, Brooklin, Brooksville, Castine, Deer Isle, Little Deer Isle, Penobscot, Sedgwick, Stonington, and Surry. For a detailed prospectus, artists should contact Sarah Baskin at sarahbaskinart@gmail.com.
For more information about the MLA and the MLCA, please check out their websites at https://www.mainelobstermen.org/ and https://mlcalliance.org/.
IMPORTANT DATES:
Notify Sarah Baskin of your interest in participating by May 15, 2023
Delivery of artwork: July 3, 2023, between 9:00 a.m. and 12:00 p.m.
Reception: July 6, 2023, 6-8:00 p.m.
Pickup of unsold artwork: July 22, 2023, between 9:00 a.m. and 12:00 p.m.
Filter Press Releases
Contact Information
Sarah Baskin
Maine Lobstermen's Association
Blue Hill
ME
00000
860-205-3317
moc.liamg@traniksabharas