Bonnie Kane and Walter Wright Duo Tour
---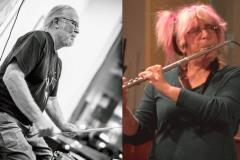 The Cannery @ South Penobscot
207 Southern Bay Rd
Penobscot, ME 04476
April 14, 7:30 PM
Bonnie Kane and Walter Wright Duo Tour
Walter Wright (percussion) & Bonnie Kate (reeds and flute) will be stopping over for a concert at the Cannery as part of their Québec-Ontario-New England tour. Joining them locally will be N.B. Aldrich (found sound), Steve Norton (reeds) and Leslie Ross (bassoon).
Price: by donation, suggested $5- $15
Bonnie Kane
is a dedicated improvisor, integrating saxophone, flute, feedback and electronics her work as avant-core, is an extreme energy mix of psychedelic rock, hard core, and avant garde jazz.
She was influenced by an unusually early exposure to Sun Ra, studies with Sonny Simmons, Paul McCandless, Glenn Moore, Ralph Towner (Oregon), and Jon Raskin (Rova Saxophone Quartet). A stint in the original Club Foot Orchestra, whose members then included Snakefinger (The Residents) and Eric Drew Feldman (Captain Beefheart), introduced her to electronic processing for horns, and brief study at Mills College under Anthony Braxton solidified her direction.
Her bands have been known for "scalp shearing shows", "feats of bravery", and for music that is "... the algebra of heart, brain, and soul." Her music is not for the timid.
http://bonniekane.com/code/bk11_music_bio2.html
https://www.youtube.com/watch?v=9-zCMN_t3rU
Walter Wright
is an interdisciplinary artist, his practice includes computer programming, electro-acoustic music, and video performance. His focus is on "improvisation as a way of being present in the world."
Wright performs with several groups including LOS CONDENADOS, Egregoros, and ensemble inédit ?!. He plays a Bugbrand Board Weevil, contact mics by Crank Sturgeon, drums and percussion.