Brunswick and Houlton students win Congressional Art Competition
---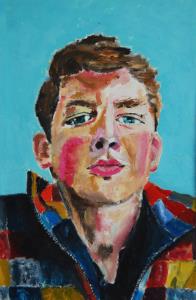 AUGUSTA, ME--The Maine Arts Commission announced today that Taylor Worthington of Brunswick and Lizzie Dunn of Houlton are the winners of the 2017 Congressional Art Competition.
The two high school students, one from each of Maine's congressional districts, were chosen by a panel of jurors chosen by the Arts Commission and Maine College of Art.
Each student will have their respective pieces displayed at the United States Capitol for one year, and will be offered scholarships to attend Maine College of Art.
The Executive Director of the Maine Arts Commission, Julie Richard stated, "We are thrilled to be able to work with our Congressional offices and the Maine College of Art to honor these talented students in this way. There is so much creativity in our State and this year's winners and runners up certainly exemplify that."
Worthington, a senior from Brunswick High School received the congratulatory call from Maine's 1st District Congresswoman Chellie Pingree earlier today. Worthington was thrilled to learn his oil painting "Touch of Pink" won first place, according to Brunswick High School Art Teacher Allison Prince.
"The painting was really a pivotal and daring work for Taylor as it was the first time he'd ever worked with oil paint," Prince said. "He showed so much devotion to his process."
Dunn, a sophomore from Houlton High School, took top honors from Maine's Second District with her artwork "Jill."
"Lizzie shows extreme skill in her ability to create imagery," said one 2nd District judge who juried the competition. "She draws the viewer in and invites you to engage with the subject. She offers an excellent example of new contemporary portraiture."
A reception will be held May 4 at the Blaine House to honor the top winners and honorable mentions recognized in each district. Dunn and Worthington will subsequently be invited to attend the opening ceremony at the U.S. Capitol building in Washington in June.
This year's additional top finishers include:
1st District: First Runner Up: Katie Sprague of Manchester, Second Runner Up: Nicholas Maynard of Wells. Honorable Mentions: Bennett Hight of Freeport, Morgan Schlaack of Brunswick, and Sarah Belling of Brunswick.
2nd District: First Runner Up: Sherwin Yuen of Bangor, Second Runner Up: Dolphine Penzo of Hebron. Honorable Mentions: Sherwin Yuen of Bangor, Lauren Rousseau of Hebron, and Eli Clein of Hebron.
The Congressional Arts Competition was started in 1982 to honor the arts and talents of students nationwide. Each year the Maine Arts Commission and Maine College of Arts puts together a juried panel to select two students from each district.
For more information visit http://www.mainearts.com.
The Maine Arts Commission supports artists, art organizations, educators, policy makers, and community developers in advancing the arts in Maine. For more than 50 years the Commission has encouraged and stimulated public interest and participation in the cultural heritage and cultural programs of our state; has worked to expand the state's cultural resources; and encouraged and assisted freedom of artistic expression for the well-being of the arts, to meet the needs and aspirations of persons in all parts of the state. Additional information is available at mainearts.com.
###