CMCA Virtual Exhibition | Shelter (Earth, House, Body, Spirit)
---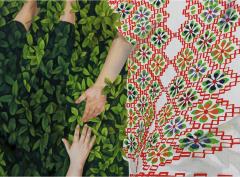 NEW Virtual Exhibition | Shelter (Earth, House, Body, Spirit)
Online November 20, 2020 - February 20, 2021

CMCA is pleased to announce the launch of the third [ON]now virtual exhibition, available for viewing online at cmcanow.org from November 20, 2020 - February 20, 2021.

Shelter (Earth, House, Body, Spirit) features the work of 20 artists who examine the slippery nature of what seeking cover and comfort looks like at this moment in time. For some, these explorations are specific and literal. For others, they move like brackish water between the categories that emerged from the submissions—earth, house, body, spirit.

Guest curators Annika Earley + Tessa Greene O'Brien, co-directors, Able Baker Contemporary, Portland, ME, made their selections from more than 150 submissions by Maine-connected artists. They state:

"Some artists offer shelter by grounding the viewer in the underbrush; some use rich textures to explore the care, tenderness, and occasional exhaustion that bodily shelters can offer to the self and others; and some look deeply inward towards the spirit as a reprieve. This collection of works show how multi-faceted the idea of shelter can be: comforting, powerful, fallible, tender, exhausting, and essential."

Artists included in the exhibition:

Cecilia Ackerman (Augusta, ME), Judith Allen-Efstathiou (Portland, ME), Jeane Cohen (Brunswick, ME), Kenny Cole (Monroe, ME), Eleanor Conover (Knoxville, TN + Midcoast, ME), Alicia Ethridge (York, ME), Jessica Gandolf (Portland, ME), Brice Garret (Brooklyn, NY + Eastport, ME), Sarah Haskell (York, ME), Nina Jerome (Bangor, ME), Alice Jones (Portland, ME), Rachel Katz (Portland, ME), Arnela Mahmutovic (Albany, NY + Portland, ME), Lindsay Mercer (Portland, ME), Meghan Mitchell (Portland, ME), Whitney River (Camden, ME), Judith Schneider (Norway, ME), Sharon Shapiro (Charlottesville, VA + Portland, ME), Shane Smith (Cape Elizabeth, ME), Kiana Thayer (Providence, RI + Portland, ME)

CMCA's series of [ON]now virtual exhibitions present the work of Maine artists in a digital venue, expanding opportunities for introducing work beyond our physical walls.