Call for Artists – Philadelphia Museum of Art Craft Show
---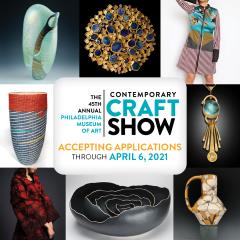 Call for Artists – Philadelphia Museum of Art Craft Show
45th Annual Contemporary Craft Show Announces Artist Applications Open
Philadelphia, PA and nationwide —
The Philadelphia Museum of Art Craft Show is now accepting applications through April 6th for the 2021 Craft Show. Following a successful 2020 virtual event, the Craft Show committee has begun planning for both an in-person* and online juried Craft Show in November. A highly regarded event nationwide and internationally, the PMA Craft Show seeks artists that create unique one-of-a-kind or limited edition contemporary crafts by hand. Artists may apply in any of the 13 categories, including basketry, ceramics, fiber, furniture, glass, jewelry, leather, metal, mixed media, paper, wearables, and wood. Artists receive 100% of their sales.
Approximately 10,000 visitors attend the PMA Craft Show each November. Out of the 160 artists exhibiting last year, 35 were new to the Show, including ten emerging artists. An integral part of the Show, the emerging artist category is a very important component for artists establishing themselves in the contemporary craft world. One such artist is metalsmith Emily Shaffer who first came to the PMA Craft Show as a student, then as an emerging artist, which led to the trajectory of her successful studio in Maine.
"The Philadelphia Museum of Art Contemporary Craft Show is a great opportunity for emerging artists to try a large, high quality show containing buyers and collectors who know and appreciate fine craft. The opportunity to have a booth within the same environment as experienced, successful artists from around the country can make an impact and facilitate connections that can last long after the show. I hope emerging artists will consider and apply to this category knowing that it's a great step towards a career in craft." ~ Emily Shaffer
The PMA Craft Show is dedicated to bringing the finest in contemporary crafts to a nationwide audience, and also presents annual awards in ten categories including Best of Show ($1500) and nine excellence awards ($1000). 2020 Best of Show recipient Stacey Lee Webber shares her thoughts on artists considering submitting an application. "The PMA Craft show has been pivotal in my career, I highly recommend applying and putting your full energy into the exhibition. It has helped me grow my audience and develop a community of people who support my work. I am still in close contact with many of the patrons I met at my very first show many many years ago!" Awards are selected and sponsored by foundations, individuals, and arts organizations and award recipients are automatically accepted for the following Show year. The jury for the Craft Show changes each year, and artists are encouraged to apply, whether or not they have exhibited previously. Now in its 45th year, the Craft Show, presented by The Women's Committee of the Philadelphia Museum of Art, has raised 13.6 million dollars over its long history. The museum's largest single fundraiser, funds go to supporting museum initiatives, including education, art and fine craft acquisitions, state-of-the-art equipment, and special exhibitions.
The 45th Annual Philadelphia Museum of Art Craft Show, a juried exhibition and retail sale, will be held in-person at the Pennsylvania Convention Center and online from November 5-7, 2021, with a Preview Party on Thursday, November 4.
*The Show Committee reserves the right to make any changes to an in-person show in 2021 based on pending status with regard to health and safety. Complying with any CDC, state, and local guidelines will be the first priority.
Exhibitor Application: bit.ly/PMACSApplication
@pmacraftshow on Instagram, Facebook, Pinterest, and Twitter
#pmacraftshow
#artbyhand