Call for Artwork to Feature at the Change AGEnt Summit - Maine Council on Aging
---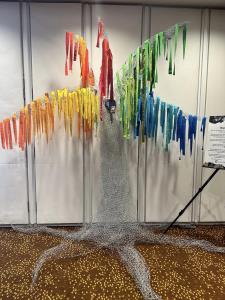 Call for Artwork to Feature at the Change AGEnt Summit - Maine Council on Aging
We are Celebrating the Aging Adventure . From building longevity-ready communities where everyone is welcome to aligning health spans with life spans, the MCOA's 2023 Change AGEnt Summit will explore creative solutions to evolve outdated concepts about aging. We know art, in all its various forms, is a great way to inspire change and creative thinking. Art can help us build an age-positive society where we all intentionally feel included – while defying stereotypes and celebrating diverse aging experiences. We are seeking artwork to feature at the Change AGEnt Summit.
From age-positive cards and buttons to inspiring photos or artwork featuring older adults living their best lives, to moving music or poems embracing age, and even age-positive yard signs, fiber art, or puppets – there are so many ways to convey the beauty of aging and celebrating our longevity.
Feeling inspired? We want to hear from you! Talk to us about an art installation at the Summit or to share your creative gifts.
For the works selected, we will feature and share your creations at the Wisdom Summit on September 27th at the Augusta Civic Center. We will also highlight your artwork on our website and on social media.
Join us to creatively express and be a part of the change we want to see! Contact: Krista George Email: kgeorge@mainecouncilonaging.org Phone: 207-380-3218 About the MCOA: The MCOA is a broad, multidisciplinary network of over 135 organizations, businesses, municipalities, and community members working to ensure we can all live healthy, engaged, and secure lives with choices and opportunities as we age at home and in community settings.
Learn More: https://mainecouncilonaging.org/maine-wisdom-summit/