Call for Entries: Earth, Water, Fire and Air Exhibition
---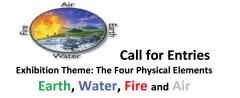 The Denmark Arts Center is very excited about plans for three art exhibitions this year; Earth, Water, Fire and Air. Let's focus our creative, civic and natural imaginations on the four basic elements to create many marvelous and varied visual interpretations about these themes. We hope to inspire and move our collective imaginations toward a sustainable planet for us all to cherish and explore by bringing awareness to the many visual forms these themes can take. All life interacts with the environment on earth. When in balance, harmony and continuity of life is possible.
The Denmark Arts Center is an award-winning 501(c)3 cultural organization founded in 1994 in the rural community of Denmark, Maine. Housed in the historic 1883 Odd Fellows Hall, the DAC offers year-round events and workshops in contemporary dance, theater, music and visual art to community members young and old. The DAC provides an important creative and community hub for Western Maine and the Mount Washington Valley with diverse and original programming.
GUIDELINES: Artwork accepted into exhibitions must be ready to hang. Artwork must be original and created by the artist submitting work. At delivery, all artwork must be framed and ready to hang with a wire. Clip-on frames, saw-tooth and keyhole hangers will not be accepted. DAC reserves the right to decline artwork that is substantially different than the image submitted. Please label all artwork with your name, price, title, and contact information.
ENTRY PROCEDURE: All entries must be submitted through Entrythingy.com, our on-line submission program. Please go to www.denmarkarts.org to enter and find out more detailed information.
Entry Process Opens: March 12, 2018
Entry Deadline: April 30, 2018
Accepted Artist Notification: May 15, 2018
EXHIBITION LOCATION: The Denmark Arts Center, 50 West Main St., Denmark, ME 04022
Questions: Contact Linda Cersosimo at: lindacersosimo@gmail.com or Suzi Linden at: suzilinden@gmail.com