Coastal Treasures by Susan Horowitz
---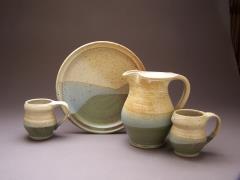 Susan lives and works in Harpswell, Maine, a coastal treasure which boasts 216 miles of shoreline-the longest of any town in Maine. In 1985 she established Ash Cove Pottery which looks over Casco Bay. Influenced by her environment , her stoneware pots are glazed in the colors of the sea and sand. The brushwork and sgraffito decoration on her pots are based on the patterns left in the sand as the tide recedes.
ABOUT SUSAN HOROWITZ – Since 1970, Susan Horowitz of Ash Cove Pottery in Harpswell has been hooked on the magic of taking a lump of earth, "pulling" it into a cylinder and shaping it into a vessel on the potters wheel. She strives to make functional pots that work well and feel good to use. The clay itself inspires her forms, which change slightly with each throwing cycle, becoming clearer and bolder like a photo coming into focus. Her inscribed and brushwork decorations are based on the patterns left in the sand by the receding tide.
ABOUT MAINE POTTERS MARKET – Founded in 1978 by a group of potters who envisioned a cooperative market where they could sell their wares to the public and share their knowledge of pottery with customers, Maine Potters Market currently consists of thirteen Maine potters working in eleven studios throughout the state. The rich variety of handmade work available for sale keeps Maine Potters Market customers returning. March hours: 10 – 6 Monday - Sunday.