Contemporary Handmade Earthenware by Rebecca May Verrill at Maine Potters Market
---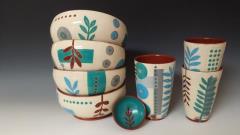 For the month of November, Maine Potters Market features the new work of Rebecca May Verrill. Rebecca creates a diverse line of graphic, cheerful, contemporary handmade earthenware pots adorned with abstracted leaves, dots and prints, which are bound to brighten up any room. Designed to be mixed and matched, Rebecca's cups, bowls and plates are truly one of a kind and aren't likely to match the drapes. These contemporary pots are a departure from traditional crockery one might expect to find at a New England Thanksgiving table. Rebecca feels that life is too short to play it safe and serious with solid colors and matching dinner sets. She hopes for people to mix it up, have fun, and make some new traditions for the years to come!
ABOUT REBECCA MAY VERRILL – Inspired by organic plant life set against the rigidity of a metropolitan landscape; the determination of plant life to thrive and succeed through brick and stone, Rebecca's signature abstract plant designs are individually cut out by hand for use as stencils, then layered, carved and often further embellished with water etching, masking, various printmaking techniques, dots and screen printed imagery. She hopes that those who use her work will enjoy it as much as she has enjoyed creating it. To find out more about Rebecca and her Portland studio please visit www.rebeccamayverrill.com.
ABOUT MAINE POTTERS MARKET – Founded in 1978 by a group of potters who envisioned a cooperative market where they could sell their wares to the public and share their knowledge of pottery with customers, Maine Potters Market currently consists of fourteen Maine potters working in twelve studios throughout the state. The rich variety of handmade work available for sale keeps Maine Potters Market customers returning. November hours: Sunday - Thursday: 10-6; Friday: 10 – 8; Saturday: 10-9. Closed Thanksgiving Day.