Creative Portland's Free Summer Stage Concert Series back at Monument Square After August Postponeme
---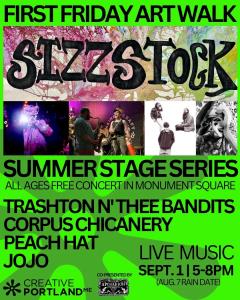 For Immediate Release: Creative Portland's Free Summer Stage Concert Series back at Monument Square After August Postponement
Portland, ME – After launching the Summer Stage pilot program in 2021 with the aid of sponsors, including the Maine Music Alliance and a revitalization grant award from Maine Arts Commission, Creative Portland will continue to produce and promote the Summer Stage Series, a live showcase of local musicians, in collaboration with the City of Portland.
On September 1, the alternative local indie music venue, Apohadion, will co-present during Creative Portland's monthly First Friday Art Walk (FFAW) from 5-8pm in Monument Square. The event was originally scheduled to be held in August, but postponed until September due to weather.
Over 3,000 people attend FFAW each month, and even more during the summer, to visit galleries and museums, enjoy live performances, buy local art from street vendors, and greet friends as they stroll along city streets. Before COVID vaccinations became available, Creative Portland shut down the Art Walk from April 2020 through June 2021 during the pandemic. As we resurrect the Summer Stage Series, Creative Portland's interest in celebrating local musicians is joined by several community partners who also promote local talent and performing artists. In 2022, SPACE, Greater Portland Immigrant Welcome Center (IWC) and Maine Academy of Modern Music (MAMM) co-presented the series in Monument Square. The free concert series is open to people of all ages in an outdoor setting to allow inclusive participation.
"Nothing better than strolling Congress Street on a warm summer night hearing music inviting our participation. Outdoor music performances make us feel good. Sharing the fun with fellow community members is integral to mental, physical, and social well-being," enthuses Dinah Minot, Executive Director, Creative Portland. "Our intention is to be inclusive and to partner with local organizations to highlight a high bar of excellence and to spotlight Portland's diverse artists, representing multi-disciplinary genres and musical styles. Our goal is to cultivate patronage and attract a wider audience with new listeners and fans from the past."
Creative Portland will co-present with The Apohadion on September 1 with a bill including local bands: Trashton N' Thee Bandits, Peach Hat, JoJo, and Corpus Chicanery, and Maine Academy of Modern Musicians will return again in October to showcase student performances.
Creative Portland has secured cash commitments and in-kind donations from community partners to publicize the series and to help cover program expenses. Due to the postponement, there will be a total of three outdoor concerts during the First Friday Art Walks in July, September, and October 2023.
"Hiring local performing artists is our priority," explained Herb Ivy, Creative Portland board member and Regional Director, Townsquare Media. "We expect to hire and engage over a dozen artists, including musicians from diverse BIPOC and emerging artist populations. Marketing of the outdoor concerts on social media, the Creative Portland app and website, community partner websites, and via posters and radio spots will saturate the marketplace."
Peter McLaughlin, Summer Stage Series Music Producer, & Music Programmer of SPACE, added, "We're thrilled to work with Creative Portland to create more opportunities to experience the incredible diverse talents of our local music scene. And we're happy to get these amazing musicians compensated fairly for their work, too!"
CONTACT:
Bobbie Pirruccello
Project Coordinator
Creative Portland
(207) 370-4784
Email: bobbie@creativeportland.com
Filter Press Releases
Contact Information
Bobbie Pirruccello
Project Coordinator
Creative Portland
Portland
ME
04010
moc.dnaltropevitaerc@eibbob