DAVE PIETRO: World Renowned Jazz Saxophonist to Perform Capstone Concert in Brunswick
---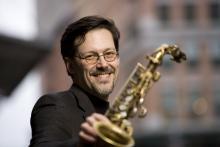 Brunswick, ME – Jazz Residency Initiative, in coordination with the Brunswick High School Music Boosters, is pleased to announce that Dave Pietro will be headlining the Capstone Concert at the Crooker Theater on Friday, May 12th at 7:00 p.m. The concert will feature Dave Pietro performing with the Brunswick student big bands. The concert will also include a professional set during which Mr. Pietro will be joined on stage by Brad Ciechomski, John Hunter, and Ryan Parker. Leading up to the concert, Mr. Pietro will be spending three days working with Brunswick area student musicians as part of an artist-in-residency. During the residency he will lead a series of masterclasses, workshops and rehearsals, providing instruction and feedback to the student musicians on an individual and ensemble basis.
Dave Pietro is an accomplished saxophonist, composer and educator. He is currently a member of the Grammy Award-winning Maria Schneider Orchestra and the Grammy nominated groups the Gil Evans Project and Darcy James Argue's Secret Society. He has recorded six albums as the headliner and over 60 as a sideman. Mr. Pietro has a music education degree from University of North Texas and a Master of Arts degree in jazz composition from New York University where he is currently a professor of Jazz Studies. He has played with many well-known musicians including David Bowie, Paul Anka, Louis Bellson, Blood, Sweat &Tears, Dave Matthews Band, Ray Charles, Rosemary Clooney, Harry Connick Jr., Michael Feinstein, Chaka Khan, Liza Minelli, Sandip Burman and John Pizzarelli.
Tickets for the Capstone Concert are $10 for adults and $5 for students. They can be purchased online through the Jazz Residency Initiative's website www.jazzresidencyinitiative.orgor at the box office on the night of the concert. The Crooker Theater is located in the Brunswick High School at 116 Maquoit Road, Brunswick Maine.
The Brunswick High School artist-in-residency and Capstone Concert have been made possible largely through the generous support of Title Sponsor: The Times Record and Gold Level Sponsors Bath Savings, Bill Dodge Auto Group, Brunswick Inn, David French Music, Dot Ollier Group at Re/Max Riverside, Music & Arts, and Siteline PA, as well as Midcoast School of Music, Rinck Ad Agency, Selmer Conn and the Maine Arts Commission. The residency has been coordinated by the Brunswick High School Music Boosters and Jazz Residency Initiative (JRI), a Maine based non-profit dedicated to the development of aspiring jazz musicians.
To learn more about JRI and other upcoming residencies visit www.jazzresidencyinitiative.org, or contact Christopher Burk at cburk@jazzresidencyinitiative.org or (612) 991-2139.