Dietlind Vander Schaaf "Exhalation"
---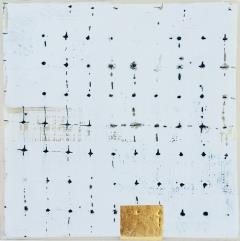 "Exhalation", a solo show by Dietlind Vander Schaaf, will be held at Vestibule 594 gallery at 594 Congress Street (next to Starbucks at the Hay Building) from September 2 - October 29. The opening reception will be held on Friday, September 2 from 5-8pm.
Dietlind Vander Schaaf holds an MFA from the University of San Francisco and an MA from the University of Southern Maine. Her work has been described in terms of it's focus on "showcasing the wax itself, encasing objects as if they were ancient artifacts" (Orlando Sentinel) and as the transformation of "disparate materials into elegantly simple compositions of pattern and grace" (Artscope magazine). She has exhibited her paintings nationally and was recently featured in Maine Home + Design magazine's "One to Watch" profile on standout artists in Maine. The recipient of the Award of Excellence from Encaustic Art Institute, the Emerging Artist Grant from International Encaustic Artists, and a Pace House residency from Maine College of Art, Vander Schaaf serves as president elect of New England WAX. She teaches workshops throughout New England.