Drawing and Painting Workshops Offered in Downeast Maine
---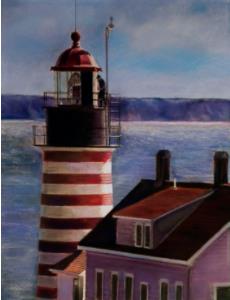 University of Maine, Machias adjunct professor and visual artist, Jude Valentine, will offer four workshops in drawing and painting this summer, working on location on the waterfront in Lubec, Maine! The four workshops will be held on Saturdays, July 9, July 16, August 6 and August 13 from 9 am - 1pm. Participants will meet at 37 Water Street, Lubec, Maine. Pre-registration is required.
Explore and refine your painting and drawing skills to capture the essence of the built and natural landscape in the picturesque seaside town of Lubec, Maine, with an experienced, professional artist and art educator. All levels of experience are welcome from novice to more experienced, and recommended media include all dry and water media, including pastel, watercolor, and acrylic. Working at various sites around town and the greater Lubec area, each of the four separate workshops will focus on a different aspect of perceptual skills to improve your artistic abilities. Workshops include four hours of individualized instruction with a group critique and are held rain or shine. Sign up for one or all four workshops. For more info: https://squareup.com/store/jude-valentine-studio or visit http://www.judevalentine.com/Classes.html. Cost: $65/per workshop or $240 for all four.
Long time Maine resident, Jude Valentine received her BFA from the Maine College of Art and MFA in Visual Art from Vermont College. She has received numerous grants and awards for her work including a Jerome Foundation Fellowship and an Individual Grant Award from Cornell University Council on Creative Arts. She has been the recipient of a number of residencies at the Vermont Studio Center, Stephen Pace House in Stonington, Maine, as visiting printmaker at the St. Michael's Print Shop in Newfoundland, Canada and in 2015 was a resident fellow at the Heliker-LaHotan Foundation on Great Cranberry Island, Maine, where she completed 11 paintings for the Percent for Art commission for the Washington County Courthouse (Machias, Maine). She teaches at the University of Maine in Machias where she is a member of the Interdisciplinary Fine Arts program faculty.
Questions? Please call 207-263-7499 or email: info@judevalentine.com.