Ellsworth Movie Queen returns to town after 80 years
---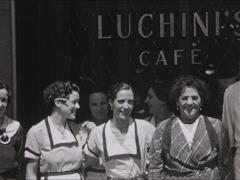 Bucksport, Maine, USA-- On Wednesday, August 19 at 7pm, Northeast Historic Film and the Ellsworth Historical Society will present "Movie Queen," an amateur film shot in Ellsworth in June 1935. The screening will take place at the Moore Community Center Theater on State St. in Ellsworth. This is likely the first time it has played in Ellsworth, or anywhere, since its creation 80 years ago this summer.
Movie Queen films were made by itinerant filmmakers throughout the country in the 1930s. Many were made in Maine, including in Lubec, Bar Harbor, and Belfast. The local film was often accompanied by a live stage show. Although the person who shot the Ellsworth Movie Queen remains unknown, many Movie Queens were made by women. Most of these films follow a three-part storyline where the movie queen, a local woman returning from Hollywood where she's become a star, is met with an arrival parade. She then tours local businesses and shops. Later, she is kidnapped by gangsters, often played by prominent people from the community. She's saved by a hero and all is well in the end. The Ellsworth film lacks the kidnapping scene, instead featuring an extraordinary number of street scenes, businesses, civic organizations and people.
The Ellsworth Historical Society located the newspaper report of the original showing of the Ellsworth Movie Queen in June 1935. It indicates the film was shown at City Hall as a benefit for the Lions Club, to help raise money to build a park.
Ellsworth natives will recognize many of the places featured in the film and there are numerous shots of local people, including many young children, who may be identifiable even today. Northeast Historic Film is interested in gathering as much information as possible from the audience about people and places depicted in the film. In addition, the Ellsworth Historical Society is researching businesses depicted in the film and will present information on life in Ellsworth in the summer of 1935.
Northeast Historic Film has a large collection of Movie Queen films from Maine and other northern New England states and is committed to collecting, preserving and making accessible the moving image history of the region.
This event is co-sponsored by Northeast Historic Film and the Ellsworth Historical Society. Admission is free and donations are gladly accepted.
Filter Press Releases
Contact Information
Northeast Historic Film
Moore Community Center Theater
State Street
Ellsworth
ME
04605
207/469-0924
gro.mlifdlo@koorb
www.oldfilm.org/