Franconia ArtWalk Public Information Session
---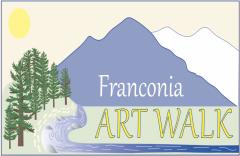 Franconia ArtWalk Public Information Session
The Franconia ArtWalk Association continues to work on the creation of the Franconia ArtWalk which is an art and nature focused walk through the village of Franconia. We feel strongly that the community should be informed about this venture and it should include the participation of as many community members as possible. To accomplish this, the Association is holding a Public Information Session on Tuesday, March 19, 2019 at 7 p.m. in the multi-purpose room at Lafayette Regional School (elementary school) on Main Street in Franconia. The Association Board members will give a short presentation about the project followed by a question and answer period. Refreshments will be served and all are welcome.
Prior to the meeting, the Board encourages potential attendees to review the path of the ArtWalk which starts at the north end of town, near Iron Furnace Brewing on Main Street, runs along the Gale River and as far as Plain Kate's Restaurant, near the intersection of Rt. 142. There will be art displays on business and town properties along Main Street and the Gale River. The walk is being made accessible to people of all abilities and much of the walk is near or within sight of the river.
Beginning in February, the Board of Directors began its "Call - To - Artists" to attract artists to display their creations. They have opened up this opportunity to artists of varied mediums and hope to include works of granite, bronze, ceramic, tile, paint, mosaic, stained glass, wood, etc. Art work selections will be made by a committee of artists. Interspersed with the art, the group plans to encourage the placement of benches and decorative gardens.
In addition to the peaceful enjoyment of the art and scenery, the Board also anticipates working with other community volunteers to provide nature and history tours throughout the summer and fall. There may also be poetry readings, concerts and temporary art displays at various locations throughout the summer and fall.
The Walk's Grand Opening is scheduled for Friday, July 5, 2019. For more information, go to the Franconia ArtWalk link at https://artwalkfranconianh.wordpress.com/2019/02/03/artist-call/
Filter Press Releases
Contact Information
Bob Montagno
PO Box 602
Franconia
NH
03580
603-823-5565
moc.oohay@sklawainocnarf