Invitation from the Arts Endowment
---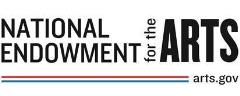 Dear Arts Colleague:
On August 26, 2020, the United States will mark the 100th anniversary of the ratification of the 19th Amendment which secured women's constitutional right to vote.
One of our partners, the Women's Suffrage Centennial Commission (WSCC), is spearheading a unique public art project to celebrate the centennial and we would like to invite you to participate.
The WSCC, with the support of the National Endowment for the Arts, is launching a nationwide campaign called Forward into Light, to honor the historic suffrage slogan, "Forward through the Darkness, Forward into Light." Through this campaign, we encourage artists to express themselves in the official suffrage colors of purple and gold and for landmark buildings such as theaters, libraries, museums as well as city halls across the country to change their lights to purple and gold on August 26, 2020 to mark the occasion. You might be interested in knowing that the project has already attracted support from the Library of Congress, National Archives, and the National Park Service.
We know many of your facilities remain closed and financial situations are precarious and lighting of your edifices' exterior may not be feasible. Another option for participation might be using photo shop to place a purple, white and gold wash on a picture of the exterior and disseminate through social media. WSCC and the National Endowment for the Arts, in turn, would retweet those photos.
Light art has always served to illuminate and commemorate public events in public spaces. By becoming a Forward into Light partner, you and your community will be part of an historic event that honors the past, celebrates the present, and points to the future.
For more information, please see the WSCC website here: https://www.womensvote100.org/forwardintolight
With kindest regards,
Mary Anne Carter
Chairman of the National Endowment for the Arts
Susan Combs
Chairwoman of the Women's Suffrage Centennial Commission and
Former Assistant Secretary for Policy, Management and Budget, U.S. Department of the Interior
Colleen Shogan