Maine Humanities Council hiring Associate Director
---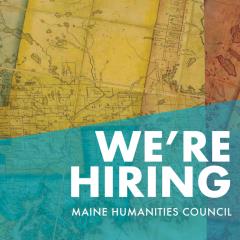 The Maine Humanities Council is searching for an Associate Director, a new senior leadership position for the Council. The Associate Director will oversee and provide strategic direction for our program and grant-making work throughout Maine, and will be the staff lead for our efforts around diversity, equity, and inclusion.
The Maine Humanities Council is seeking someone exceptional to join our team. In this complex world, the MHC uses old-school tools – books, poetry, history, big ideas – to foster meaningful connection and positive change in communities throughout Maine.
The MHC believes we are stronger the more fully we see and reflect the diversity of our communities. We work toward equity, accessibility, inclusion, and representation of diverse experiences and perspectives. Our work takes the long view, takes humanity seriously, and requires commitment and delight. We invite you to apply.
This is a new senior leadership position for the Maine Humanities Council. The Associate Director will oversee and provide strategic direction for our work throughout Maine.
Responsibilities include:
In accordance with the MHC mission and strategic plan, set strategic vision and direction for program and grantmaking
Lead the MHC's efforts on diversity, equity, and inclusion, coordinating with staff, board, and outside
Oversee ongoing operation of MHC programs and
Provide direct supervision and support for program staff
Engage in ongoing community outreach and partnership building throughout the State of
Coordinate staff training and professional development opportunities, including support of mentorship
The ideal candidate will be perceptive, curious, deep-thinking, persistent, outgoing, adaptable, patient, kind, imaginative, and will possess:
At least seven years of relevant experience with a proven track record of success; previous leadership experience is
Passionate belief in the power of the humanities to create connection, foster agency, and inspire increased civic
Experience in planning and implementing multifaceted programs and a history of strong community relationship
Demonstrated commitment to collaboration, curiosity, honesty, and
Flexibility and a creative approach to problem-solving.
Deep commitment to serving the people of
Excellent benefits, including fully paid health insurance. Competitive salary, based on experience.
To apply, please forward a resume, a cover letter describing your interest in and suitability for the position, and contact information for three references to info@mainehumanities.org.
To ensure full consideration, please apply by Monday, November 23, 2020.