Midcoast Actors' Casts 'Frankenstein'
---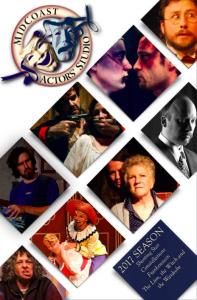 MIDCOAST ACTORS' CASTS FRANKENSTEIN
BELFAST - Midcoast Actors' Studio has cast its next production, Frankenstein, by Mary Shelley. It has been adapted by director Erik Perkins. Tyler Johnstone will play Victor Frankenstein, while Eric Sanders will play the creature. Julia Clapp plays Elizabeth, Victor's love interest. Other roles will be portrayed by local actors James Clayton, Ivy Lobato, Phoebe Norman, Melora Norman, Matthew Shelton, Chris Groden, Jessica Moore, Olivia Andrews, Gwen Higgins, Wiley Fowler, Jay Rosenberg, Dakota Wing, Jay Holland and Linda Leppanen.
Along with Perkins directing, Greg Marsanskis is stage managing. MAS founding artistic director Jason Bannister is producing. John and Elaine Bielenberg will design the set and costumes. Nell Moore will assist in costume design and construction. Rosenberg designs the sound. Leah Bannister is the photographer.
Frankenstein will run October 20-29 at the Crosby Center in Belfast. Tickets are $18 for adults and $15 for students. For more information visit midcoastactors.org and on Facebook, or call 370-7592.