New Artwork on Display in Maine's State Capitol
---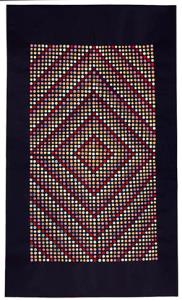 Augusta, ME – The Maine Arts Commission is proud to announce an exhibition of artwork by Maine artist Grace DeGennaro. The work will be on display in the Capitol Complex from June 10 through the end of August as part of the agency's Art in the Capitol program.
Viewers will be able to experience a selection of works connected to DeGennaro's study of ancient uses of pattern, symmetry and iconic symbolism seen in traditional forms such as Tantric drawings, Navajo weavings, and Byzantine mosaics. "Continuum is both the name of my current painting series and the essence of my ongoing aspiration: to convey to the viewer a sense of the unseen structure that supports the universe," DeGennaro says.
DeGennaro, who works and lives in Yarmouth, Maine, earned an MFA from Columbia University and a BS from Skidmore College. Her work has been exhibited throughout the midcoast and is included in many collections locally and abroad.
The self-guided exhibit will remain on display through the end of August 2014. Admission is free and the exhibit is open to the public from 8 a.m. - 5 p.m., Monday through Friday. For more information about Maine Arts Commission programs, visit www.MaineArts.com.