On Common Ground Art Exhibition
---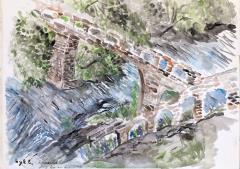 Yarmouth, ME - On Common Ground will be on exhibit at Stonewall Gallery, Yarmouth Historical Society, 118 E Elm Street, Yarmouth, Maine beginning November 1 through December 31. The Opening Reception will be held November 10, 5:30-7:00 p.m.
On Common Ground is group exhibit that explores place and our connection with it. Spindleworks artists delve into the subject of their favorite places and create art that takes you into their world. The art in this exhibit features landscapes from memory, observation, and the imagination. Artists created work in a variety of media including watercolor, acrylics, and drawings. This exhibit features artwork by Emma Becker, Tracy Cabral, Terri Snape, Nancy Bassett, and many others.
Spindleworks is a non-profit art center for adults with disabilities and a program of the Independence Association of Brunswick Maine, whose mission is to help adults with disabilities achieve full and inclusive lives in their chosen community. Spindleworks supports over 40 artists work in a variety of mediums, including painting and drawing, photography, ceramics and woodworking, weaving and other fiber and fabric arts.
Filter Press Releases
Contact Information
Brian Braley
7 Lincoln Street
Brunswick
ME
04011
207/725-8820
gro.eniamfoai@yelarbb