Open Art Teachers Studio | Every First & Third Wednesday
---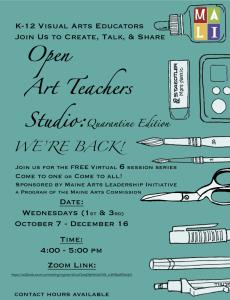 Open Art Teachers Studio
This fall, the Maine Arts Leadership Initiative, a program of the Arts Commission, is reigniting the Open Art Teachers Studio, a free weekly one-hour virtual gathering.
Every first and third Wednesday at 4 p.m. through December 16, we're offering free one-hour virtual gatherings of mostly art making and discussions with arts teachers.
The ability to create, each in our own spaces, yet together, is a great antidote to the distancing required at this time.
Join us to create, talk and share!
The sessions are open to the public.
_________________________________________________
November 4, 2020
TODAYS' THEME: Balance/Imbalance or Order/Chaos.
Have you heard of the art concept horror vacui? We will use this composition style, ie filling the entire page, often with lots of detail, as our prompt. Literally, it means fear of empty spaces, and is a propos – a way for us to direct any election jitters and feelings about the outcome, or lack thereof, in an active creative way! This is a very concrete art-making direction yet one that leaves lots of room for original ideas and improvisation. Can be drawing, painting, collage, and any combination. Can be abstract or representational, simple or complex, repetitious or varied, meandering or structured.
The goal is to actively FILL the entire surface with marks and imagery. Let that right-brain flag fly.
Materials: paper, paint, pencils, markers, scissors, glue, magazines, etc.
(Giving credit for the idea to UMVA Maine Art Journal prompt for their next issue.)
To register:
https://us02web.zoom.us/meeting/register/tZcucOutqDkjHdx0zCHB_LvWf3lptROukIpY
Filter Press Releases
Contact Information
Martha Piscuskas
193 State Street
SHS 25
Augusta
ME
04333
207-287-2750
vog.eniam@saksucsip.ahtram