PAUL J NOEL Exhibits at Richard Boyd Art Gallery
---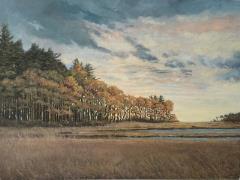 (Portland, ME) Richard Boyd Art Gallery welcomes Paul J Noël to the group of artists represented by the gallery. Paul is a member of The Newburyport Art Association and the Copley Society of Boston, and recently retired from a forty year career as an Interior Designer with a client list spanning the United States.
Paul says, "My artistic destination is a journey I have been waiting for all of my adult life. Having recently retired, I can now devote all of my time to the passion of painting. I dabbled for years, here and there, but never had the time or motivation that I have now. I can paint with a passion and carefree attitude with no distractions. I have taken courses along the way including a four month sojourn to Paris to immerse myself in painting. I left Paris with a new found spirit and ability which I could never have discovered, in small doses, in Maine. This was the tipping point to my life as a fine artist."
Noël's extensive portfolio of paintings in oil include works in miniature as well as larger scale paintings and depict a broad range of subjects. Paul's paintings will be featured in the annual 'Holiday Offerings' exhibit opening Friday, December 2 at 10:00 a.m. For more information about Paul or the exhibit please contact Richard Boyd Art Gallery by phone at (207)-712-1097, via email at info@richardboydartgallery.com or visit http://www.richardboydartgallery.com . Like the gallery on Facebook at http://www.facebook.com/RichardBoydArtGallery .
Copyright©2016 Richard Boyd Art Gallery All Rights Reserved.