Portland Bach Experience Presents Oktoberfest 2019
---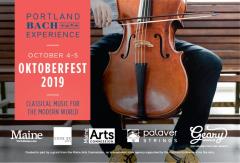 Portland Bach Experience Presents Oktoberfest 2019
October 4-5, 2019
Portland, ME - Portland Bach Experience is pleased to announce the lineup for its October festival, taking place October 4-5, 2019. With four events over two days, ranging from an intimate salon to the crowd favorite Bach & Beer to a bold concert, Oktoberfest is designed to present a variety of events for people of all ages to "find your experience" with classical music in unexpected places.
For this year's Oktoberfest, Portland Bach Experience is proud to partner with Palaver Strings, a Maine-based musician-led chamber orchestra that has performed at the Kennedy Center and Carnegie Hall, has been Ensemble in Residence at the Boston Center for the Arts, and continues a longstanding residency at Bay Chamber Concerts in Rockport, ME. Much like Portland Bach Experience, Palaver has established itself as a forward-thinking ensemble whose mission is rooted in community and creative programming.
Also joining the festival will be Hidenori Inoue, a bass highlighted by NYC's Voce di Meche as a "magnificent Don Magnifico" for his performance in Rossini's La Cenerentola, as well as John McKean, harpsichordist and chair of the historical performance department at the Longy School of Music of Bard College, who had performed with Portland Bach Experience in two prior festivals.
For this year's Oktoberfest iteration of Bach & Beer, Portland Bach Experience partners with Geary Brewing Co., New England's First Craft Brewery. Flight of the BumbleBEER will pair tastings of Geary's beers with musical selections in a multi-sensory collaboration.
"For centuries, music and beer went hand-in-pint. We are returning the music to its natural habitat but with a 21st century twist. I like to design experiential, multi-sensory 'concerts.' For Flight of the BumbleBEER we wanted you to smell, taste, and see the music so you are not just listening but having a full body experience of the music," said Emily Isaacson, the organization's founder and artistic director.
SCHEDULE OF EVENTS
Friday, October 4th
Experience: The Salon -
Madness Unleashed with Palaver Strings
Cove Street Arts | 7 pm (doors at 6:30pm)
Saturday, October 5th
Experience: Community Engagement
Move to the Music
US Customs House | 3 pm | Free Public Event
Experience: Bach & Beer
Flight of the BumbleBEER with Geary Brewing Co.
US Customs House | 4 - 6 pm | Free Public Event
Experience: The Concert
Like Father, Like Son: Music of J.S. & C.P.E. Bach
The Episcopal Church of Saint Mary, Falmouth | 7 pm (doors at 6:30pm)
Portland Bach Experience was founded in 2017 by Emily Isaacson to present classical music for the modern world. Anchored in the Baroque tradition and centered around world-class artists, the Portland Bach Experience uses distinctive programming, dynamic interpretations, and authentic connections that make the sounds of the past the music of now. Oktoberfest concludes the organization's second full year of programming.
For full schedule and more information, visit https://portlandbachexperience.com/upcoming-events