Rotundas and Reading Rooms: a talk celebrating Maine Library Art and Architecture
---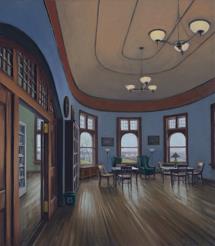 A Presentation Celebrating the Beauty of Maine's Public Library Buildings will be held Thursday July 14, 2016, from 5:00pm- 6:30pm at the Portland Public Library in Meeting Room 5.
On Thursday evening July 14, a discussion at the Portland Public Library will celebrate the history, art and architecture of Maine public libraries. Rotundas and Reading Rooms: Library Art and Architecture is a co-presentation about the beauty of Maine's public library buildings. Kirk F. Mohney, author and architectural historian, will present a history of libraries in Maine. Monroe artist Alison Rector will discuss her series of paintings of public libraries, Shared Quiet, in conjunction with an exhibit on view during July at Greenhut Galleries in Portland.
The free presentation begins at 5pm in Meeting Room 5 at the Portland Public Library at 5 Monument Way in Portland. For more information, email alison@alisonrector.com or call 843-441-7046.
Simultaneously, Alison Rector's newest body of art work, Shared Quiet, is on exhibit at Greenhut Galleries in Portland July 7 through July 30, 2016. Karin Wilkes, director of Courthouse Gallery Fine Art in Ellsworth writes, "Alison Rector, known for her luminous paintings of interiors, has been inspired by Maine's public libraries, in particular the Carnegie libraries. By the early twentieth century, a Carnegie library was often the most imposing structure in hundreds of small American communities. From Portland to Somesville, Rector's adept use of light accentuates lofty vaulted domes, lustrous oak panels, or a modest structure overlooking a spectacular ocean view. She invites the viewer to experience these community treasures with reverence—the beauty of their stacks, their striking architectural features, or the simple joy of a quiet place to read."
The opening reception for the Shared Quiet exhibit is Thursday July 7, 5:00pm to 7:00pm at Greenhut Galleries, 146 Middle Street in Portland. All are welcome. For more information, visit www.greenhutgalleries.com or www.alisonrector.com.