Salad Days
---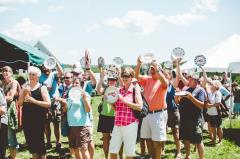 Salad Days Celebration July 9
Many area residents have found a summer recipe they can't resist: a salad buffet of fresh vegetables prepared by local chefs and served on earthenware plates they can keep. On Saturday July 9 from 11 a.m. to 3 p.m., hundreds of visitors will join in the 22 annual Salad Days celebration at Watershed Center for the Ceramic Arts in Newcastle.
In addition to getting a delicious meal and handcrafted plate, visitors can enjoy pottery demonstrations, tours of Watershed's historic art studios, a raffle with dozens of ceramic art prizes, and lively music by Jerks of Grass.
There will be two opportunities for those inclined to shop: a pottery sale featuring works by Objective Clay, a group of artists from around the country who share a virtual studio space, and a sale featuring creative beer steins by leading national ceramic artists.
The Pots on Wheels! van, a mobile project space that brings pottery to underserved communities, will offer visitors a chance to play with clay. Other participating nonprofits include the Craft Emergency Relief Fund, and Society of Arts and Crafts. Studio Potter magazine will also be on hand.
Funds raised during Salad Days support Watershed's programs for clay artists. Admission is $35, which includes the meal and a handcrafted plate by artist Liz Hafey. Visitors coming just to the pottery sale are admitted free. Tickets can be purchased on site that day or online at www.watershedceramics.org.
"Salad Days joins artists near and far with the midcoast community, and is generously supported by many local restaurants, farms and businesses," says Francine Rudoff, Watershed's executive director. "We're especially grateful to this year's Tent Sponsors, J. Edward Knight Insurance, and Ames True Value Hardware."
For directions to Watershed and details on Salad Days, visit http://www.watershedceramics.org/events/salad-days/.
###