Serenity an Annual Exhibition of Visual Art November 4-27 at Richard Boyd Art Gallery
---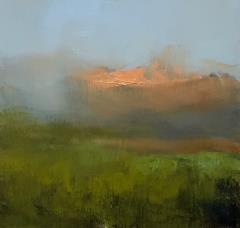 (Portland, ME) Richard Boyd Art Gallery opens Serenity an annual exhibit of visual art on Friday, November 4 at 10:00 a.m. The exhibit features a selection of paintings in a variety of mediums that evoke feelings of tranquility or calmness in the viewer.
Featured in the exhibit are paintings by Amy Bickford - acrylic based gouache; Randy Eckard - watercolor; Jane Herbert - acrylic; Rabee Kiwan - oil and watercolors; and images in pastel by Bob Santandrea.
The exhibit is open free of charge bewteen the hours of 10:00 a.m. and 3:00 p.m. every Friday, Saturday, and Sunday through November 27, 2016. Additional days and times can be scheduled by appointment.
About the Artists
Amy Bickford creates paintings in a traditional style that are her interpretation of the timeless beauty and essence of Maine. Whether depicting a landscape, old pilings, or a familiar coastal scene, Amy's paintings are a response to the experience and to everyday life. She graduated from the Maine College of Art (MECA) in 1983. Since graduating, she has held a variety of jobs while continuing to create works of art for individual clients, corporations, and small businesses, including painting murals for the Children's Museum of Art in Portland and recreating the artworks on the ceiling of St. John's Cathedral in Bangor, ME.
Randy Eckard studied at the Ringling School of Art in Sarasota, Florida and the Haywood School of Craft in Clyde, North Carolina. Randy says, "My approach to watercolor painting is nontraditional, in that I try to avoid the limitations and trappings of traditional watercolor techniques. Although traditional washes are an integral part of the painting process, I rely more on the layering of color with glazing and dry brush work. Light plays an essential role in my paintings. Light reveals the character, color, and texture of objects, whether man-made or natural. Subject matter has always been of paramount importance to me, especially with its tendency to come unexpectedly. Quiet, patient observation will almost always reveal the life of a subject, although frequently, the focus of my impression will change through the course of a painting. The paintings' titles offer clues to the experiences behind an inspiration."
A year-round resident or Damariscotta, ME Jane Herbert responds to the ever changing colors, life and mood of coastal Maine by creating paintings in a traditional style. Her current series of paintings in acrylic are based on her observation of the working waterfronts, harbors and beautiful, but rugged coast of Maine.
Rabee Kiwan is a certified Internal Medicine Specialist practicing in Portland, Maine who has created art on and off again for many years. Rabee grew up in Lebanon where his art was influenced by the sounds, tastes, and diversity of cultures in the area. Rabee moved to the United States in 2002, moving from Ohio to Maine in 2006. When asked about his love of art Rabee said, "Art is not only an escape mechanism, it is a passion. I see paintings and colors in everthing around me. Even ordinary things can make magnificent paintings when you put your feelings into it."
A semi-retired patent attorney and chemist by training, Bob Santandrea's images in pastel are a means of self-expression. For many years his primary artistic interests were the human form and portraiture. After moving to Corning, New York he became interested in landscapes and re-discovered his love of pastels. Santandrea is drawn to the colors and spontaneity that the medium allows. Weather permitting, Bob prefers to work outside to capture the natural colors and light of his surroundings.
About the Gallery
Richard Boyd Art Gallery is located on Peaks Island in Portland, Maine at the corner of Island Avenue and Epps Street, in the first building on the right, on the first floor. The gallery represents established and emerging artists with a connection to the state of Maine, creating original works of art in a broad range of styles from contemporary to traditional realism.
During the months of April through October the gallery is open between the hours of 10:00 a.m. and 5:00 p.m. daily. From November through the end of March the gallery is open between the hours of 10:00 a.m. and 3:00 p.m. every Friday, Saturday, and Sunday. Additional days and times can be scheduled by appointment.
For more information about the exhibit please contact the gallery by phone at 207-712-1097, via email at info@richardboydartgallery.com or visit http://www.richardboydartgallery.com . Like the gallery on Facebook at http://www.facebook.com/RichardBoydArtGallery .
Copyright©2016 Richard Boyd Art Gallery All Rights Reserved.