Singing together on Zoom - Schoodic Arts For All
---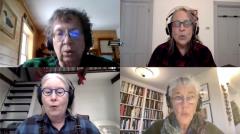 Looking for creative ways of finding pleasure through these challenging times?
Schoodic Arts for All and Schoodic Summer Chorus director Anna Dembska have something unusual to offer you this spring—an opportunity to sing together with a few other people on Zoom—yes, really sing together! It seems like in-person choral singing may be possible again soon, but it's not quite here. So, if you're really missing singing with people, this may be for you.
The back story
Like so many choruses, the Schoodic Summer Chorus had to cancel its 2020 season. The members of the chorus were missing singing together so much that Anna wanted to find some way for all to make music online. But what most choruses were doing—either rehearsing with everyone muted except the leader, or doing pre-recorded "virtual choirs"—was not satisfying for many singers.
The experience
So, Anna Dembska started looking and listening for another way. And after a winter of experimentation with 3 adventurous singers from the Schoodic Summer Chorus, they are actually making music together over Zoom, hearing each other and singing multiple parts together in real time. Anna has written and arranged songs and warmups specifically for the quirks of Zoom, and they have been having lots of fun, musical and vocal growth, and satisfaction playing with the music.
Come sing
Anna is happy to be offering, this spring, through Schoodic Arts for All, classes/rehearsals for groups of 3 or 4 singers to sing together on Zoom. This Zoom singing seems to be enjoyably challenging for anyone who can carry a tune and likes to harmonize with other people, from casual to experienced singers. The meetings are like something between classes and rehearsals.

Curious? Intrigued? Find out more about the music, the process, and how to sign up here:https://schoodicartsforall.org/product/singing-together-on-zoom/ or https://fleap.com/SCWP/singing-together-on-zoom/ and listen to a sample of this beautifully haunting music.
Check our website for information about the Schoodic Summer Chorus coming together in person, masked, and safely, in Winter Harbor later this spring.